Good riddance to diesel dinosaurs as Auckland at last embraces quiet comfortable and swift new services.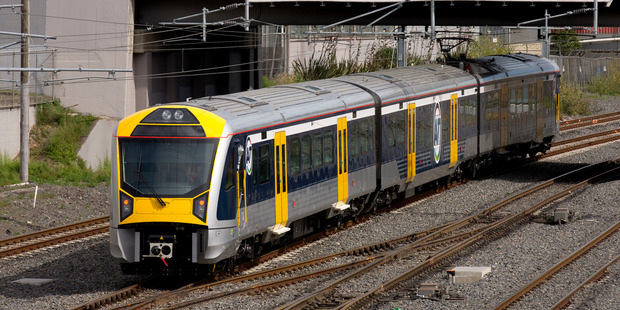 One remembrance encapsulates just how much Auckland is due the electric train service that will finally roll out on the Onehunga line on Monday. It is that of Terry Scott, the managing director of Transdev, Auckland's rail operator.
He recalls catching the city's present diesel trains as a schoolboy in Perth long before the fleet was sold to Auckland in the early 1990s. Subsequently, and for far too long, passengers have had to endure these 60-year-old bone-shaking hand-me-downs. All that changes on Monday, however.
Aucklanders are being assured that they will be very pleasantly surprised by the comfort, quietness and speed of their new trains.
As much should be expected. The 57 Spanish-made trains must justify a $540 million tag, as well as compensate for the inconvenience of the extended shutdowns of rail services as the region's $1.16 billion electrification project was completed. Much also rides on them in terms of the development of the city's public transport network.
The Mayor, Len Brown, expects rail patronage to "rocket". If so, there will be increased pressure for an early start to the city's underground rail link.
There is no reason to suggest passengers will not be delighted by the new three-car trains, which are scheduled to be running on all lines between Papakura, Swanson and Britomart by July next year. They will each carry up to 375 passengers - 40 per cent more than the diesel sets - at a cruising speed of 90km/h. That, allied to the non-juddering acceleration that is a feature of the best European trains, is expected to chop 10 minutes off the existing 53-minute trip between Papakura and Britomart.
They also start operations at a favourable time. Auckland rail patronage is at a record high despite the diesel dinosaurs.
It increased 2 per cent to 10.88 million trips in the 12 months to the end of February before hitting 11 million a month or so later. That takes patronage above even the levels achieved during the 2011 Rugby World Cup. But it is still below the 11.4 million annual figure for Wellington, which received the first of three generations of electric trains in 1938. The go-ahead for Auckland from then Finance Minister Michael Cullen came a mere 70 years later.
Current patronage is, however, far short of demonstrating the ability to reach 20 million by 2020, one of the Government's stipulations for an early start to the rail link. The potential for the electric trains to transform that situation is predicated on what happened in Perth after the same change was made. Patronage there soared from an annual 8 million trips to 63 million last year. But something similar will not happen here just because of the new trains and far better stations such as those at Panmure and Newmarket. There must be other improvements, including better punctuality and a superior weekend timetable. Any temptation to raise fares should also be resisted. Ticketing and pricing options should be made as simple and convenient as possible and, if anything, fares could be reduced to increase patronage.
That is for the future, however. Right now, Aucklanders should celebrate the arrival of their new electric trains. They have been a long time coming. But they offer much not only for those who will use them but, hopefully, for drivers seeking some relief from highway congestion.