Mother-of-two left unconscious as attackers make off with $250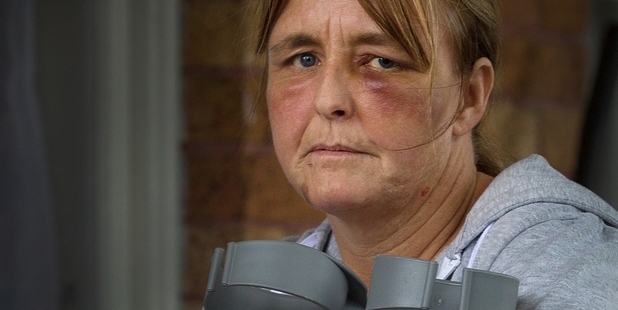 As the dog lead tightened around her neck, Maxine Lozell feared she would die at the hands of her attackers.
"I thought this is it. I really did. I thought, 'What a way to end your life'."
The 42-year-old was strangled until she blacked out. She lay unconscious outside her home for an hour as the two attackers made off with her handbag, leaving their victim for dead.
Mrs Lozell's terrifying ordeal began early Tuesday morning as she left her Lichfield home for work in nearby Tokoroa.
It was just after 6am, dark and cold when the mother-of-two walked out the back door toward her car.
The rest home worker heard the back gate squeak and as she turned to investigate, two men confronted her.
What happened next was so shocking Mrs Lozell barely had time to react.
"One of them grabbed hold of me, held my arms back, while the other one punched and kicked."
The man punched her four times in the face, fracturing her check and smashing her in the eyes and chin.
She "got a boot in" and screamed, but it was no use no one heard the commotion, not even the family dogs inside the house.
"They told me just to 'shut-up'."
The pair demanded car keys but in her panic Mrs Lozell forgot where they were.
As the brutal beating was dished out, the attacker holding Mrs Lozell urged his associate to "get a dog, bro", referring to the 17 greyhounds Mrs Lozell and her husband Michael race.
Instead, the main attacker kicked his victim hard in the knee but despite the searing pain Mrs Lozell managed to escape.
"I couldn't get back in the door because he was standing there so I thought I'd make a dash for my car. If I could get in it and toot the horn I'd be right, but I didn't make it."
When they caught her again, the main attacker slipped the dog lead around Mrs Lozell's neck.
"He just kept pulling that tighter and tighter and tighter until I fell to the ground."
As she blacked out, the two men took off with $250 cash.
Inside, Mrs Lozell's husband Michael and their daughter and son-in-law slept.
It wasn't until more than an hour later, at 7.20am, when staff at the rest home rang Mr Lozell that he realised something was wrong.
He raced outside and found Mrs Lozell lying unconscious on the ground with the dog lead still around her neck.
"It seemed like seconds later that my husband was shaking me to wake me up, but it was over an hour," she said.
It wasn't until Mr Lozell picked up his injured wife and took the lead off that she opened her eyes.
"I told him to watch out, these guys are still here, but by this stage it was daylight so they were well gone."
She described the attackers as being "very young and silly". It was not clear if they were on foot or had a getaway car.
Mrs Lozell went to Tokoroa Hospital and then Waikato Hospital for tests. She is now recovering at home on crutches.
The attack has left Mrs Lozell petrified about going out alone.
"I hope they are caught because there are so many older people around here and I'd hate for something to happen to somebody else, who doesn't come through," she said.
Tokoroa police Constable Edward King said the assault would have been traumatic and was a grave concern.
He appealed for sightings of two or more people acting suspiciously on State Highway 1 in Lichfield near the Sheepskin Factory between 6am and 7.30am on April 22.
Mr King said it's possible the attackers hitched a ride out of the tiny township and he urged witnesses to come forward.