Members of fearsome fighting force will take time out from NZ training to remember the fallen on Anzac Day.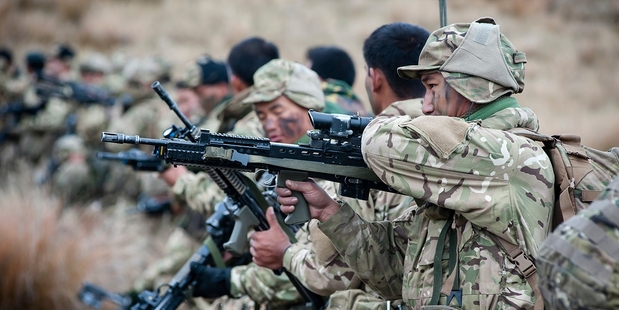 With a generous smile and glinting eyes, Dipak Ghale speaks passionately and softly about the importance of family.
You would never know he is a member of one of the world's most fearsome fighting forces.
Jockey-short but barrel-chested, the 45-year-old is a captain, and former regimental sergeant major, with the Brigade of Gurkhas - elite Nepalese soldiers attached to the British Army since 1815.
Renowned for carrying large, curved "kukri" knives and sneaking through enemy trenches to slit throats, the Gurkhas are training in the tussocklands of the Mackenzie Basin in the South Island.
Sitting inside a mess hut, Captain Ghale reels off the global hotspots where he has seen action: Kosovo, Bosnia, Sierra Leone and Afghanistan. He was bitterly disappointed to miss out on "the luxury of going to Iraq".
"We are born to fight," the 25-year veteran says.
His forefathers fought shoulder-to-shoulder with New Zealanders in the hillside trenches of Gallipoli 99 years ago.
The fierce, loyal and brave soldiers were some of the first to arrive and last to leave the ultimately doomed campaign. It was the start of a long association with Kiwi soldiers.
Gurkhas saw action alongside the 22nd Battalion, known as the Wellington Battalion, at the bloody battle of Monte Cassino, Italy in World War II.
They worked together during the Malayan Emergency guerrilla jungle war in the 1950s. Gurkhas and New Zealand troops have maintained close ties ever since.
Every two years, Gurkha units come here for training in conditions not available in the jungles of Brunei where they are based.
This month, 181 soldiers from 1 Royal Gurkha Regiment are at Tekapo Military Camp for live-firing exercises, simulated attacks, and sniper training.
There was a legendary saying that if a Gurkha draws their 45cm kukri, then they "must draw blood".
Captain Ghale, a father of two, says that is no longer the case, citing modern "health and safety" rules.
Growing up in a small alpine village in Nepal, Captain Ghale dreamed of being a Gurkha, like his uncle before him.
As a boy, he trained by running up hills carrying huge loads. When he came of age, he volunteered for his district's selection process - described as one of the world's toughest.
Those under 157cm tall were immediately ruled out. Those remaining then had to scale a mountain carrying a 35kg pack.
"It was very, very tough," Captain Ghale says. Out of 2000 applicants, only three were selected to undergo full Gurkha training.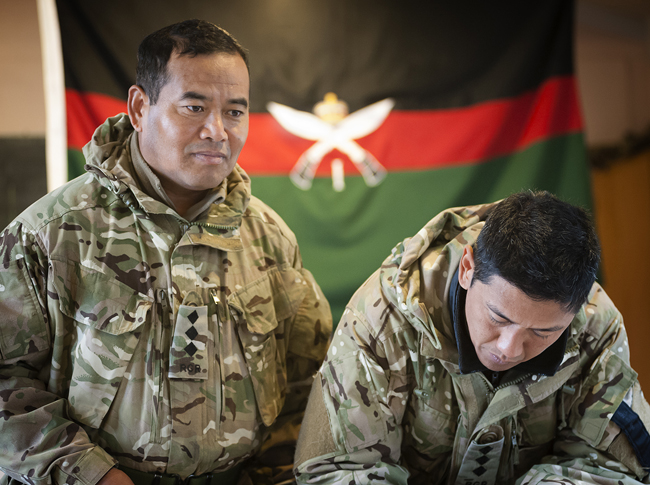 Captain Dipak Ghale.
During the trench warfare of World War II, Gurkhas were renowned for their stealth and courage.
Captain Ghale and his men will attend Anzac Day services. Officer in command, Major Leigh Roberts, said it would be "special" for the Gurkhas to commemorate Anzac Day.
"Our military history is very important to us and it's vital that we remember it in the right way."
Renowned soldiers
*Gurkhas are indigenous people of different clans mainly from the South Asian country of Nepal.
*After heavy casualties in the invasion of Nepal, the British East India Company signed a peace deal in 1815 that allowed it to recruit the former enemy.
*During World War I, more than 200,000 Gurkhas served in the British Army.
*There are now around 3500 serving Gurkhas.
*There have been 26 Victoria Crosses awarded to Gurkhas, or British officers serving with Gurkha regiments
Poppy in lights
A new light has been shone on this year's Anzac Day celebrations in the form of a giant red poppy.
The 13m flower has been projected on to Auckland's Sky Tower since Poppy Day on Friday, accompanied by red light illuminating the top half of the tower.
The poppy will remain lit until Anzac Day this Friday and people at the Auckland War Memorial Museum dawn service will be able to see it.
Although its lights have shown support for a number of past events, this is the first time since the Sky Tower was opened 17 years ago that a projection has been used to recognise the anniversary.