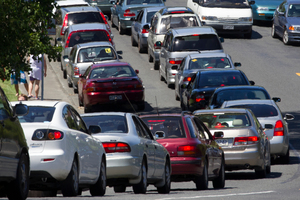 Traffic delays are testing the patience of motorists in Waikato as holidaymakers head home after the long weekend.
Elsewhere, traffic was heavy but steady on Auckland's motorway network, while Wellington drivers faced a slow crawl from Ohau, near Levin.
Police say there were no major crashes, and long tails of traffic were simply caused by the volume of cars on the road.
"We've had one complaint about a cheeky driver trying to go up the shoulder of the expressway and trying to pass cars,'' said Senior Sergeant Rupert Friend of Hamilton police.
"For the huge number of motorists out there, most of them have been pretty good, but we've still got a lot of complaints about peoples' behaviour.''
Mr Friend said some of those calls were about people drifting across lanes, possibly as fatigue set in.
He said Waikato traffic was peaking about 6pm, as crawling queues of traffic around Cambridge stretched for 3 or 4 kms.
There were also large delays on State Highway 1 around Taupiri and Huntly, long tailbacks on SH1 and SH1B where the new section of the Waikato Expressway ends and delays at the SH2/25 intersection at Rangiriri.
Mr Friend said motorists needed to be patient and allow plenty of time for their journeys.
He asked for people to "drive social'' and allow room to stop suddenly because many of the tails were in places where motorists would not normally see them.
"Allow breathing space for the vehicles around you and everyone will get home safely,'' he said.
"This is not a time to be overtaking vehicles, just be patient and travel with the flow of traffic.''
Police said traffic was heavy around Auckland motorways but there had been no major incidents, as was the case on the roads heading into Christchurch.
Inspector Chris Tate, shift commander of police central communications, said there had been a few complaints about campervans not pulling over and letting other vehicles pass in the lower North Island.
Although once drivers hit the queue at Ohau that wouldn't matter as traffic from there was "crawling''.
"There's actually been quite a few complaints about various driving behaviour, but that's not unexpected because there's more people on the road and less patience being exercised.''
The Easter holiday period on the road officially ends at 6am tomorrow. Four people have died so far, one more than last year.
- APNZ