The frightening fun and the excitement of the annual Easter Show is still fresh, even four decades on.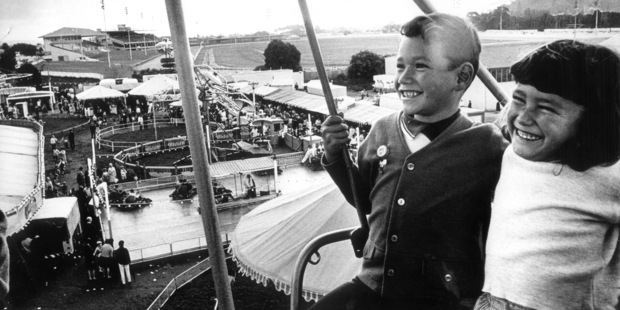 Francine Wilkes remembers clinging on for dear life as she soared high above the Auckland Showgrounds on a ferris wheel 46 years ago.
Wilkes, formerly Francine Farkash, and her big brother John were snapped by a Herald photographer on the ride at the Easter Show on April 16, 1968.
She and her brother, aged 6 and 7 when the picture was taken, could hardly contain themselves whenever Easter came around.
"It was a favourite family outing, going to the Royal Easter Show.
"I just remember virtually jumping out of my skin to get on the ferris wheel - I was that excited," she said.
"But it was pretty big - really big - and I was hanging on for dear life. There wasn't too much in the way of occupational health and safety concerns in those days."
She couldn't remember the photographer getting on to the seats opposite but her father, Zsigmond, told her later that he had taken one look at the two children and decided they would be perfect for the paper.
"We were that cute. I've retained my looks, he hasn't," she joked of her brother.
The picture remained a favourite of the family's photo albums, and is still pulled out every few years at family gatherings.
"My father bought almost every single newspaper around on the day it came out and he's kept the photo ever since," she said.
"It was a big thrill for us to be in the paper, for a couple of kids from Auckland."
Both siblings have since moved to Australia where Francine, now 52, is a human resources director in Melbourne. John, 53, manages a retail store in Sydney.
The Easter Show, which was first held in 1911, is on at the ASB Showgrounds in Greenlane until tomorrow .
And yes, it still has a ferris wheel.