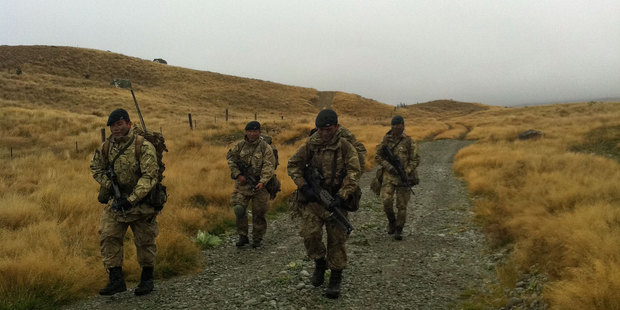 They are some of the most fearless warriors in military history.
The bravery and exploits of the Gurkhas, who carry the terrifying Kukri knife, are the stuff of legend.
The South Island is currently hosting 181 soldiers from 1 Royal Gurkha Regiment for a biennial exercise with the NZ Army.
The legendary fighting force has come from the hot and humid jungles of Brunei, where they are based, to near-freezing temperatures at Tekapo Military Camp in the shadow of Mt Cook/Aoraki.
The tussock plains and rocky outcrops set in the backhills above Lake Tekapo provides them with invaluable foreign training conditions.
For the next month, the Gurkhas, who form part of the British Army, are doing live-firing exercises, including simulated attacks in small units.
They're also doing sniper training, larger-scale platoon attacks, and mortar practice.
Officer in command, Sandhurst graduate Major Leigh Roberts said the exercises are designed to get them ready for deployments "in support of either UK government objectives or a friendly nation that requires assistance".
"We've had some tough tours recently, but we've certainly learned lessons, from Afghanistan in particular, and some of those lessons we are practicing here in New Zealand."
APNZ was given a unique tour of the mock battlefield yesterday to watch the highly-trained killers in action.
In miserable, single-digit temperatures, the steely resolve of the Gurkhas was being severely tested.
But before a simulated section attack to take a hill position, lance corporal Minraj Tamang didn't seem fazed by the cold, despite a running, red nose.
"This is my second time in New Zealand. I'll get to see if the young guys can keep up with the old guys - like me," said the 29-year-old nine-year veteran of Bosnia and Afghanistan.
"This training is very good preparation for us. We'll go away much better prepared."
Lance corporal Tamang is a typical example of Gurkha toughness.

Lance corporal Minraj Tamang. Photo / Sean Spivey, NZDF
Born in Nepal, like everyone but the British officers of the regiment, it took him three attempts to win selection.
"Only the best get selected," he says proudly.
Thousands of young Nepalese men - aged between 17 and 21 - turn out for the initial regional selections carried out across the country.
Less than 200 get taken on to the next step in the gruelling selection process. They then have to lug a 35kg pack, using either shoulder straps or forehead straps, six kilometres up a steep hill.
Just an elite handful make the final cut.
Today at Tekapo, they crouched in firing positions and covered each other as they steadily advanced up a narrow valley on a hill-top objective.
The live rounds pinged off the metal targets as they completed their mission.
It was getting dark, the rain getting heavier, and the temperature somehow continuing to plummet as APNZ were driven out of Tekapo by the Army.
But the Gurkhas still had another nine hours of training on the exposed and muddy hillside ahead of them.
"It's OK. It's not so bad," grinned lance corporal Tamang.
- APNZ