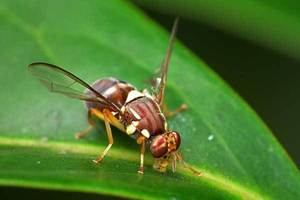 The search for more Queensland fruit flies will be wrapped up by Easter Sunday providing no more of the pests are found in Whangarei, Ministry for Primary Industries says.
A response by the ministry was put in place following the detection of one of the fruit flies in a surveillance trap in the suburb of Parihaka on April 1.
The Queensland fruit fly is a significant pest of many horticultural crops and home gardens.
Ministry chief operations officer Andrew Coleman said they remained on alert for the possibility there could be a last-minute detection of further flies.
"The response team will swing into action, should this be the case.
"However, we hope to be able to publicly notify the community on Sunday morning that we have had the all-clear and the Controlled Area Notice is revoked and people can go about their business as usual.''
The ministry was cautiously optimistic the trapped fly was a single detection, Mr Coleman said.
There have been four previous Queensland fruit fly trap detections in the country and in all cases no breeding population of the flies was found.
"We do not know how these two flies entered New Zealand, but the ministry is carrying out investigations into possible entry routes.''
- APNZ