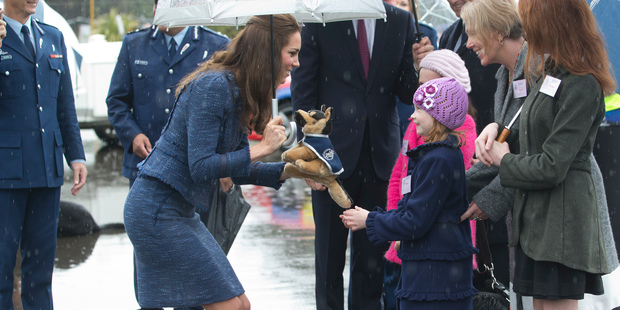 When it came to getting close to the royals it was often a case of "it's not what you know but who you know".
At every point of the royal visit, adoring crowds, desperate for a glimpse of the couple, were kept behind burly security officers, police and barricades.
They watched from afar as the sons and daughters of those involved in organised stop-offs and events were granted regal access.
Suggestions on who would be the lucky few to meet the Duke and Duchess of Cambridge were made by respective venue organisers, said royal visit office media manager Allen Walley.
"We ran it past a steering committee in New Zealand before it finally got ticked off by the royal couple themselves."
On Monday, 28 youngsters were selected from seven Christchurch schools to play cricket with the royal couple.
But a further four children - three of whom were children of ex-Black Caps stars Stephen Fleming, Craig McMillan and Geoff Allott - were selected as flower bearers and spent time chatting and joking with the royals.
The lucky four kids' roles were offered to "families of people who have made a significant contribution to Canterbury cricket", said a spokesman for the ICC Cricket World Cup 2015, which organised the Latimer Square event.
"Unfortunately, there was always going to be someone who missed out," he said.
Yesterday four children of Wellington Phoenix FC staff were on hand, in uniform, to collect gifts given to the royals.
Three boys and three girls from the Royal New Zealand Yacht Squadron Lion Foundation youth training programme sailed with William and Kate on two former Team New Zealand yachts.
The three boys, Nick Egnot-Johnson, Oscar Gunn and Leonard Fry are all members of the Murrays Bay Sailing Club - where Team NZ skipper Dean Barker and tactician Ray Davies learned to sail.
When William visited Pacific Aerospace aircraft manufacturers in Hamilton, he was greeted by company bosses, directors and staff, as well as their wives and children.
Maggie Langford, 5, wore a red dress to present a bouquet of flowers to Kate before her Shotover Jet thrills. Her dad, Martin Langford, is territory manager of Dart River Jet.
- APNZ