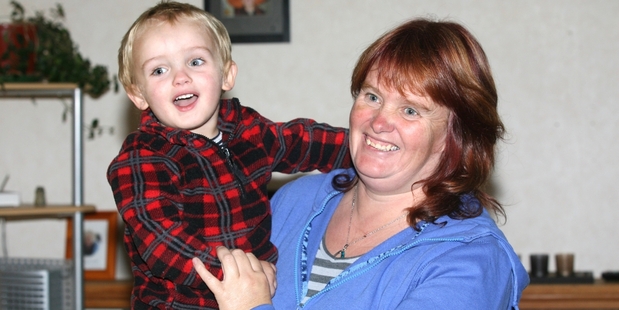 "Relief" is how Joanne Smith describes being home with her toddler Caleb, who six weeks ago was fighting for his life.
She has been at her son's side since she received a call at work on March 3 from a friend telling her 2-year-old Caleb was in a critical condition in hospital after being assaulted.
"I just broke down and cried. I cried for days on end ... I thought the worse. It was my baby."
Caleb had to be resuscitated at the George St home she shared with 39-year-old Jason Sutherland, who has been charged with injuring with intent to cause grievous bodily harm and other violence charges involving an 8-year-old.
Two days after being flown to Starship Hospital in an induced coma, Caleb was woken by doctors to find he had received minor brain damage affecting his behaviour and moods. He was transferred to the Wilson Rehabilitation Centre on Auckland's North Shore.
There was a time Ms Smith didn't think her boy would pull through.
"When we had to go to Auckland I really thought he was going to die. He had all these tubes coming out of his little body.
"I just broke down and cried ... I don't want to ever go through this again. I was scared.
"It's a miracle. They told me he is the only one to survive something like this. They didn't think he'd pull through."
But Caleb is a fighter.
He was born with a chronic bowel condition and has always been a fighter, Ms Smith says.
He died twice on the operating table while undergoing bowel surgery as a new-born baby.
Hospital check-ups will now feature in their lives again. "It hasn't been easy for him."
While he has pulled through, life won't ever be the same for Caleb because of the effects of the assault.
He will experience learning and behavioural problems for the rest of his life, his mum said.
"He yells a lot and he has real bad mood swings. He gets really frustrated and he is real clingy."
A person will be required to assist him when he starts kindergarten for socialisation.
The toddler also can't sleep on a normal bed. He has mattress on the floor in case he rolls out of bed or falls from it.
"If he falls or hits his head we will be back at square one ... I'm just glad, relieved to be home with him."
Her focus is now clearly on the future though.
"My aim is for my kids to grow up and be happy.
"I just want to get on with life and take one day at a time and for my kids to live a normal and safe life."
Meanwhile, she wants to thank everyone who has donated money.
"Everyone has been very generous. I can't thank them enough."
For more articles from this region, go to Wairarapa Times-Age