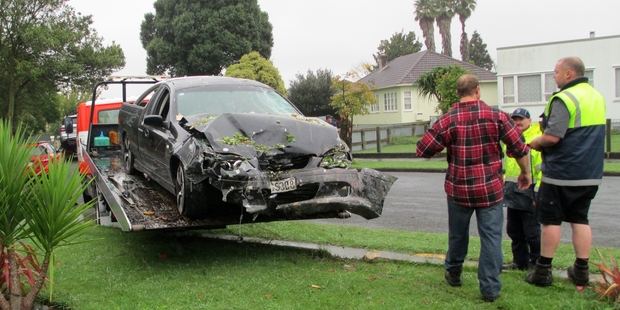 Neighbours of a suburban Napier street woke to the sound of crunching metal and brick as a man smashed his car into his own living room.
Police and emergency services responded to the house on Bedford Rd, near the corner with Latham St, about 11.20pm on Sunday after the man's new Ford Falcon ute ploughed through the lounge of his home.
"I was upstairs and I heard him [driving] down the road, the next thing I heard was this ripping and tearing," said one neighbour. "Then I heard this thump and crack before the really loud sound of metal on brick.
"He narrowly missed the parked cars before he [went] across the lawn and fence and smashed right into the lounge. There was water spraying out everywhere, he had obviously hit a pipe or something as well."
Acting Senior Sergeant Clint Adamson said the man, by his own admission, was travelling at 120km/h in a 50km/h zone towards the roads intersection with Latham St.
Mr Adamson said the man was processed and would be facing drink-driving charges and possibly further driving charges.
The man would not comment when approached by Hawke's Bay Today because of impending legal issues.
"I thought it was an earthquake," said a female neighbour. "I went to check on my young one and then went over and saw the damage. It's a miracle no-one was injured."
She said a woman and child where in the house struck by the vehicle, the woman, believed to be the man's partner, was lying on the couch in the lounge and had only moments prior to the crash left to have a shower.
"Everyone came rushing out in their pyjamas. It was all a little bit light-hearted because luckily no one was hurt," a neighbour said.
For more articles from this region, go to Hawkes Bay Today