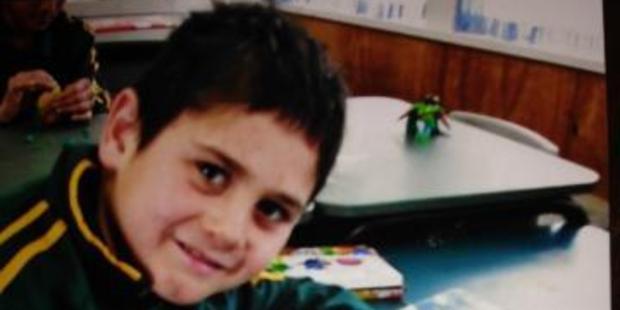 Police were last night searching for a 9-year-old epileptic boy, with grave fears for his safety after he disappeared without his medication.
Linkin Kuka left his West Auckland home yesterday morning - his mum April's 37th birthday.
Anyone who sees Linkin or knows where he is must call the police on 111 immediately.
"He left this morning and he said to me, 'mum, I didn't get you a present, but I've got one you can have'," his tearful mother told the Herald on Sunday early today.
"He said, 'I'm going to be good today'. That was the best present he could have given me."
Linkin was off to play with a friend, and expected home later in the afternoon.
He was dressed in grey denim shorts and a dark grey T-shirt, with a purple and black coloured baseball cap with "NY" on the front, and carrying his green MGP brand broken scooter - he was hoping to get new wheels for it.
When he did not arrive home by 5.30pm, his family contacted police.
Police discovered Linkin had arrived at his friend's house in Millbrook Rd about 10am, but left shortly afterwards because his friend was sick and not able to play.
Linkin suffers from epilepsy and was due to have his medication around 5pm.
Police said last night that they were anxious for Linkin's welfare and eager to return him to his family.
Local bus drivers, taxi drivers and train drivers had all been alerted to keep an eye out.
Linkin's dad Paul is expected to drive from Tauranga today. April Kuka was last night mobilising friends and family to help with the search.
"I am totally beside myself," she said.
Linkin had never done anything like this before. "He doesn't roam."
She had planned to spend her birthday with her kids - Linkin is the second of four children. She was hoping to "kick back", go out for dinner, and then watch TV and eat popcorn with the children. Instead, she was waiting at home in the desperate hope her son walks back in through the door, unharmed.
She said Linkin was a friendly child. The family had tried to tell him not to talk to strangers before, she said, but it was just in his nature to be outgoing.
Linkin is Year 5 at Sunnyvale School, a typical 9-year-old boy, his mum said, although his epilepsy really frustrated him. "He gets angry after seizures, because he wonders what all the fuss is about."
After the shock of his epilepsy diagnosis, he was finally getting on top the illness. "He's had a good break from seizures for about the last three or four months. He's at the right dose of his medicine."
April Kuka said the neighbourhood was very safe and nothing like this had every happened before. She recalled an incident where she'd left her keys in the car, or in the front door, and nothing bad happened.