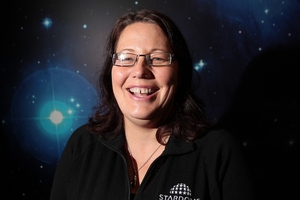 Uranus - the planet with the unfortunate-sounding name - has long been the butt of jokes.
But educators at a top science centre are trying to evade the constant innuendo with a more polite pronunciation.
Staff at Auckland's Stardome Observatory & Planetarium are teaching schoolchildren to call the seventh planet by its "less giggly" Latin version, ditching the traditional pronunciation.
Stardome's marketing manager Delyse Diack said children generally pronounced Uranus "in the way you expect", but educators pronounced the distant planet with an emphasis on the first syllable and the second syllable sounding "ra" rather than "ray".
Education manager Beth van der Loeff said around 240 children toured the planetarium every day and staff opted for the alternative Latin version "to make their lives easier".
"We choose it so we don't get the boring jokes time and time again," she said.
"Trust me, I have heard them all - and I could probably add a few myself."
She said there had always been two ways to pronounce the planet and the Latin version spared staff the ridicule and helped educate children and teachers.
Association of Science Educators president Steven Sexton said either version of the planet's name was correct. "It might be the fact that just to get away from that play on the spelling and the pronunciation more people might be trying to go for a less giggly pronunciation of Uranus."
He said the classic, common pronunciation of the planet's name was generally regarded as "just nuts".
Within academic circles, the planet was usually referred to by its Latin name with a short "a".
Uranus is named after the Greek god of the heavens, Ouranos.