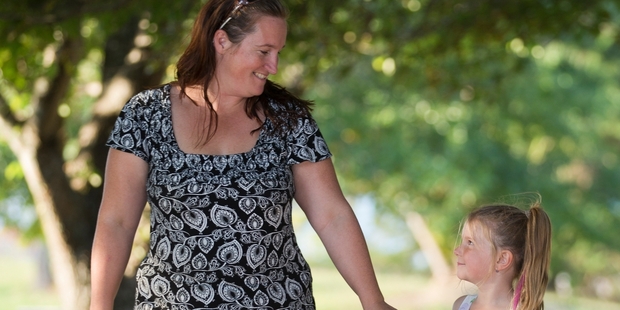 Tina Ball was milking at her father's farm, about 12km from her Paparoa home, when a neighbour called to tell her that her house was on fire.
She raced home thinking she could salvage some of her possessions, not knowing that the neighbour had run there thinking a life size cut-out of Mystics netballer Kayla Cullen he saw through a window was a person trapped inside.
"One of the local farmers was trying to throw stones at the window to alert her and went to rescue this cut-out without realising it was just a cut-out," she said. "We had a laugh about it later but it was lucky there was no one at home at the time."
The fire, which is believed to have been caused by an electrical fault, consumed the three-storey, six-bedroom house that had been home to the Ball family for about two years.
The Balls lost almost everything. Among the ashes were stacks of Mystics souvenirs collected by Ms Ball's two "absolutely netball-mad" daughters, Cheyanne, 16, and 5-year-old Stevie-Raye.
Ms Ball, a 35-year-old farm assistant, said her family were traumatised by the blaze but her daughters had taken things even harder with the loss of their netball memorabilia.
"Their bedrooms were just covered in tickets of games they had been to and Cheyanne had all the signed posters and the cut-out of Kayla. Stevie had signed balls and she had a little Mystics dress. She wore it all the time, even to bed."
Ms Ball, who is president of the Otamatea High School netball club, said uniforms and gear for all the club's eight teams were destroyed in the fire. They are borrowing uniforms as they fundraise to buy new ones.
Since the January 18 fire, the family have found a new home although the one-bedroom cottage near the farm is a squeeze for a family with four children aged 4 to 16.
To take their minds off things Ms Ball is taking her daughters to watch the Mystics play the Tactix. Good friend goal keeper Jessica Moulds, an Otamatea old girl, plays for the Tactix.
It is understood the Moulds contacted the Mystics management and told them what the Ball family had been through and asked if anything could be done for them.
The match coincides with Stevie-Raye's 6th birthday and unbeknown to her she will be the ball deliverer for the game after she and her sister receive a few other surprises from the Mystics team that may include a new dress and possibly another Kayla Cullen cut-out.
"I'm just hoping it will bring the kids out of where they're at," said Ms Ball.
"Stevie has been withdrawn and Cheyanne has been really traumatised. But this is going to be very exciting - although it will be a hard game to watch because Jessica plays for the Tactix."