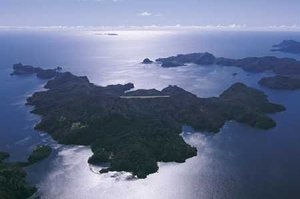 A frustrated conservationist who set fire to a lodge on an unspoilt island in Auckland's Hauraki Gulf has avoided a jail term, in part because of his record of service protecting the area's environment.
John Michael Scarlett was sentenced to nine month's home detention for burning down The Last Resort lodge on Kaikoura Island in October last year.
The 66-year-old pleaded guilty to a charge of arson and the Auckland District Court heard at his sentencing today that his actions were motivated by his concern over what was happening on the island.
For seven years until 2012, Scarlett was appointed by the Motu Kaikoura Trust to be the island's caretaker. He had long been an environmental advocate for the gulf and supported the Crown buying back Kaikoura Island from private owners.
But be became unhappy at the direction taken by the island's protectors, including them allowing a recreational fishing contest to be held there.
Late on October 6, Scarlett took a boat from his home on Great Barrier Island to Kaikoura Island and spent the night at the lodge.
He got up at 4 the next morning, made sure nobody was present, dampened surrounding areas and removed a few items of value.
He then set fire to the structure, staying until the fire had burned out and the lodge was burned to the ground.
The building was said to be old and coming towards the end of its life.
Judge Ema Aitken said Scarlett caused an estimated $300,000 damage. He promptly admitted what he had done, which alongside his record of community service, saw his sentence discounted.
"In many ways, I think, it could fairly be said that you are a highly principled man who has spent a significant part of his life holding roles where you have promoted the Great Barrier region," the judge told him.
In a victim impact statement, trust chairman Harry Doig said Scarlett's actions had caused distress and diverted attention from environmental causes.
"This act of arson has seriously set back the restoration programme which was making good progress," he said.
"The arson was a foolish, thoughtless act that has put unreasonable financial as well as personal burden on all those associated with the island."
The Crown didn't think Scarlett held any remorse, but defence lawyer Greg Morison disagreed.
"He has always made it clear in instructing me that if he had his time again he would certainly have taken different action he wouldn't have behaved in as radical a manner as he has."
After the sentencing Scarlett said: "There's no winners in things like this. I'll carry on the fight for conservation in my community."
The 564ha Kaikoura Island lies just to the west of Great Barrier Island.
- APNZ