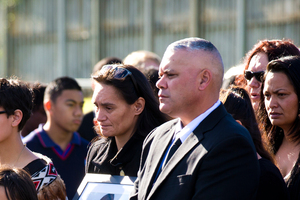 A grieving mother who shot her husband was threatening to shoot herself, according to the police case.
When Auckland schoolboy Stephen Dudley died after a fight last June, his community was in shock and his family heartbroken.
Six months later, his mother Mona was charged with injuring by an unlawful act after shooting her husband Brent.
She pleaded guilty and is due to be sentenced next week.
In the police summary of facts into the incident, Mona and Brent Dudley were said to be at home watching TV on a mattress at about 11pm on December 27 when they started arguing.
Brent got up to leave. Mona followed him off the mattress, still arguing.
The police summary states the pair were experiencing immense stress after their son's death.
Soon after the argument started that night, Mona Dudley picked up a .22 calibre rifle.
Brent pushed the butt end of the rifle into Mona's hands, saying: "Just shoot me then."
He repeated this phrase, holding both his arms outstretched.
Mona then pushed the muzzle of the rifle into her husband's face, and told him she didn't want to shoot him. Instead, she said she wanted to be shot herself.
Brent then grabbed the muzzle with one hand and the couple pushed the rifle back and forth, until a gunshot exploded.
"The victim was shot in the middle of his chest with a single pellet. This has penetrated the skin and caused him to slump forward," the police summary stated.
Mona continued arguing, before throwing the rifle on a nearby couch.
Brent collapsed on the floor. Mona saw blood on his hand, and on his chest, and called 111.
Police said Brent suffered a single entry wound in his chest area and needed immediate medical care.
He spent a fortnight recovering in hospital before returning home to his children in Kelston. Mona was bailed to another West Auckland address, but was allowed to visit family during the day.
"It was a silly accident," Brent told the Herald on Sunday in January. "There was never any intention for the gun to be discharged."
The .22 bullet remained lodged near his heart.
In February, Mona appeared at the Waitakere District Court and pleaded guilty. No conviction was entered and she was remanded until April. She is scheduled to be sentenced next Thursday.
Three weeks ago, a teenager who admitted assault following Stephen's death was discharged without conviction and granted permanent name suppression.
Brent opposed the name suppression. "Clearly there's no winners here today. There's just one very, very sad family," he told reporters after the hearing.
Stephen would have turned 16 last month.