Passing of bill ends long struggle to have birth and adoptive mothers on certificate.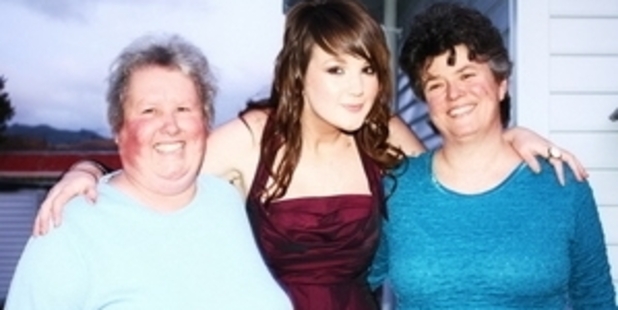 A bill which will allow a 21-year-old woman to list two women as her mothers on her birth certificate passed in Parliament last night.
The Sullivan Birth Certificate Act will allow Rowen Sullivan to have the name of her late birth mother, Diane Sullivan, included on her New Zealand post-adoptive birth certificate, with that of her adoptive mother, Doreen Shields.
Rowen was born in England in 1993 to the same-sex couple, Ms Sullivan, a British citizen, and New Zealander Ms Shields.
However, only Ms Sullivan's name, as the birth parent, was recorded on Rowen Sullivan's birth certificate.
The family moved to New Zealand in 1999, and Rowen and Ms Sullivan became permanent residents on family grounds.
The law at the time did not allow Ms Sullivan and Ms Shields to marry or jointly adopt Rowen.
Ms Sullivan died in 2010, and Rowen was formally adopted by Ms Shields in January last year.
However, the adoption required the removal of Ms Sullivan's name from Rowen's post-adoption birth record.
The passing of the bill tonight will allow both of Rowen's mothers to be included on her post-adoption birth certificate.
Following the bill's first reading last August, Ms Shields said it was horrible to have her partner's name stripped from the birth certificate.
"Given what Diane went through and how she struggled to be there for Rowen it was just obscene, quite honestly."
Rowen and Ms Shields contacted Labour MP Louisa Wall, whose marriage equality bill was voted into law last April, and who agreed to sponsor the bill.
At the bill's final reading yesterday, Ms Wall said the bill was by definition "very private, for Rowen, Doreen and their family".
"To know that they have been empowered through the process of sharing their life story is something that this house should celebrate and be proud of," Ms Wall said.
"This bill ... allows Rowen Sullivan to have her family formally recorded on the very documents that are used to confirm who she is."