Here are the top news stories today, upcoming events and the stories that will be talked about tomorrow.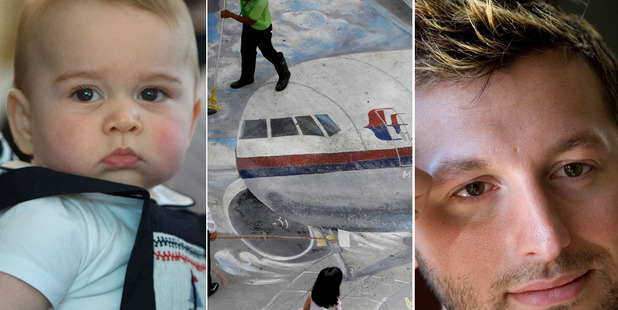 Australian swimming great Ian Thorpe is "quite sick" in a Sydney hospital after contracting two potentially deadly infections and will never swim again competitively, his agent says.



Prince George plays with the toys at Government House in Wellington. Photo / AFP
The heir to the British throne was just a regular kid this afternoon as he played with 10 Wellington babies at Government House.
His royal prerogative shone through when he took a shine to a wooden doll in possession of young Amelia Howe. He reached for the doll, and snatched it from Amelia, before throwing it to the floor.
A ship searching for the missing Malaysian jet has detected two more signals that are consistent with a plane's black boxes, the Australian official in charge of the search said today.
Angus Houston, the head of a joint agency coordinating the search for the missing plane in the southern Indian Ocean, said that the Australian navy's Ocean Shield picked up the two signals in a sweep on Tuesday.
The man charged today with murdering Cissy Chen has made a brief court appearance this afternoon.
Her partner Jack Liu, listed on court documents under his full name, Yun Qing Liu, was assisted in the North Shore District Court dock by a Mandarin interpreter.
An alarming lapse in Internet security has exposed millions of passwords, credit card numbers and other sensitive bits of information to potential theft by computer hackers who may have been secretly exploiting the problem before its discovery.
The breakdown revealed this week affects the encryption technology that is supposed to protect online accounts for emails, instant messaging and a wide range of electronic commerce.
Former Warriors' coach Matthew Elliott has slammed suggestions that the club's Polynesian players don't respond well to Australian coaches.
In his first interview since leaving the Warriors, Elliott also told the Daily Telegraph that he wouldn't rule out coaching again and 'still has a lot to offer.'

Matthew Elliott. Photo / Dean Purcell
A high-profile Auckland police officer faces an employment investigation after he repeatedly accessed the national computer profile of a woman he was sleeping with.
A sexual violation complaint was made against Detective Inspector Mark Gutry last July which launched a wide-ranging inquiry.
A passenger on a Nakedbus journey last weekend says she was stunned when the bus ran out of fuel.
The driver, who had slept in that morning and will face extra safety training after the fuel gaffe, then informed travellers he couldn't fill up there because he had a fuel card for another gas company in the town.
To be worse off among peers at home hurts more than being worse off abroad, writes Alan Gamlen.

Louise Longuet. Photo / Mark Mitchell
She has never spoken publicly about her secret meeting with Princess Diana at Government House in 1983, but one New Zealand woman will never forget the looks on the faces of a room full of dignitaries as they wondered who the strange woman was being beckoned by royalty.
- nzherald.co.nz, APNZ, AP