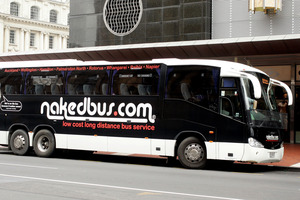 A passenger on a Nakedbus journey last weekend says she was stunned when the bus ran out of fuel.
The Wellington to Auckland service came to a halt outside a Cambridge service station on Saturday.
The driver, who had slept in that morning and will face extra safety training after the fuel gaffe, then informed travellers he couldn't fill up there because he had a fuel card for another gas company in the town.
He had to dig into his pocket to put enough fuel into the bus to get them to the other service station so he could then use his company fuel card.
Melanie Blood, a media and information systems student at Victoria University, was travelling with a friend to Hamilton on Saturday morning for a 21st birthday party.
After a one-hour delay in setting off on the 10-hour journey, she said she couldn't believe her bad luck when the bus ran out of fuel coming into Cambridge.
The passengers had to sit and wait while the flustered driver decided what to do, Ms Blood said.
Worried she wouldn't make the party in time, she phoned a friend to drive down from Hamilton and pick her up.
"No one was really angry because the fares are so cheap anyway. You get what you pay for, I guess," she told APNZ.
She paid $12 for the ill-fated trip north, and $25 for the homeward leg.
A spokeswoman for Nakedbus said the driver "slept in on Saturday morning", causing the hour delay to departure.
When the fuel was "at the bottom of the tank" in Cambridge, he topped it up with 20 litres from the nearest service station, before filling up at another with his fuel card, she said. The bus arrived in Auckland an hour behind schedule.
Nakedbus has offered all 23 passengers on board at the time a free trip, and the driver faces further safety training around best practice.
- APNZ