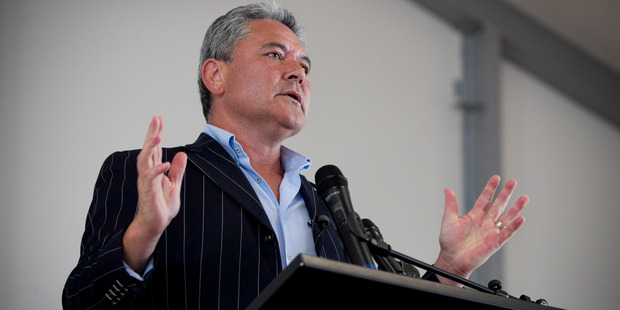 The Serious Fraud Office has been "evaluating" a complaint involving the Waipareira Trust for the past two months.
A spokeswoman for the office would not say whether the SFO's interest was a formal investigation.
Investigators are believed to be reviewing matters related to the collapse of West Harbour Holdings, a property company into which a subsidiary of Waipareira Trust had invested. Waipareira Trust, which receives about $14 million in taxpayer funding, lost about $2.5 million in the property deal.
Waipareira Trust's chief executive John Tamihere is enmeshed in legal action following the company collapse.
Liquidators are attempting to recover money they believe the company loaned him - money which Mr Tamihere said he borrowed from former friend, bankrupt property developer Brent Ivil.
The money was used to help settle the purchase of the Tamihere family home - a deal which the Herald revealed included a transfer of $500,000 of Waipareira Trust funds into a lawyer's trust account controlled by Mr Tamihere.
The Department of Internal Affairs has announced a review of Waipareira Trust's financial accounts.
The Herald discovered crucial information missing from accounts filed with charity regulator the Department of Internal Affairs.
The accounts are filed for financial years back to 2008, with a footnote saying the "Notes to the Financial Statements form an integral part to these Financial Statements". The "Notes" - which explain the balance sheets - are not filed for any of the years.
The Notes include "related party transactions", which allow staff and directors of organisations to declare any financial dealings with charities or companies for which they work.
A spokesman for Internal Affairs said charities were obliged to file financial statements but nobody checked them. He said Waipareira Trust's statements were being reviewed. "All we can say is that we are looking at the accounts to see if there are any matters which would warrant us seeking further information."
Waipareira Trust spokesman Joseph Lose said "legal advice" prevented the organisation from answering any questions about its financial statements. When asked if the "legal advice" spanned back to 2008, he did not respond. He has also cited "legal advice" as preventing any discussion about the $500,000 transfer of Waipareira Trust money.
AUT senior accounting lecturer Dr Rowena Sinclair said there were no specific rules governing what charities had to submit with financial returns. She said "Notes" to financial statements often helped people reading annual returns to understand organisations better. New reporting standards for charities due next year would place a greater responsibility on larger charities to fully report their business, she said.
- Editor's note: The SFO has contacted the Herald since publication of this story to clarify that it started looking at the complaint in February 2014, not February 2013 as it initially told the reporter.
Waipareira Trust
• Urban Maori authority established in West Auckland in 1984.
• Provides "one-stop shop'' access to health, education, justice and social services.
• Receives $14 million of taxpayer money each year.