Survey finds wider NZ community unwilling to engage with those seen as `exotic other'.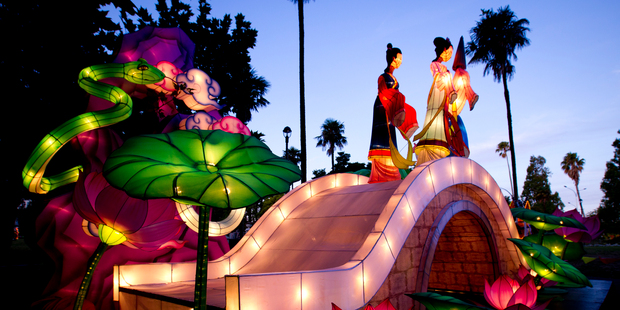 Despite nearly a quarter of Aucklanders being Asian, the wider Kiwi community still has an unwillingness to engage with a group it considers to be "exotic other", a diversity expert says.
An Asia NZ Foundation survey found four out of five New Zealanders believed Asia was important to them, and 64 per cent considered Chinese to be the most valuable foreign language to learn - but the reality is that Chinese is just the fifth most commonly studied language in schools.
"While this survey shows a growing awareness of Asians and the importance of Asia, there is still a reluctance to engage with Asians including Indians who continue to be the exotic other," said Auckland University of Technology professor of diversity Edwina Pio.
"Thus while the general public continues to enjoy the Lantern Festival and Diwali celebrations with greater gusto than in the past, there is still a rather grudging acceptance of smart, intelligent, professional Asians in the education and business domains."
Professor Pio said the choice of learning a foreign language is often influenced by linkages with one's mother tongue, as well as the legitimacy given to the mother language.
"Until ... foreign languages such as Mandarin are accorded the same foreign status as languages such as French and German, there is unlikely to be an uptake," she said.
About 90 per cent of those polled thought it was valuable to learn a foreign language. The top three choices were Mandarin, Japanese and Spanish.
People felt Mandarin was valuable because of New Zealand's trade links, it was widely spoken and because it would help New Zealanders understand Chinese people.
Foundation director of research Andrew Butcher said the question about language learning, which was included for the first time in the annual survey, was a way of measuring how much effort New Zealanders were willing to invest to increase their knowledge of Asia.
Two-thirds of those surveyed said they knew little or almost nothing about Asia, and 63 per cent believed more should be done to increase understanding of Asian cultures and traditions.
"The survey shows a clear discrepancy between those who think Chinese is important to learn and those who are actually learning it," Dr Butcher said.
Four out of five believed Asia was important to New Zealand, up from 77 per cent last year.
Foundation chairman Philip Burdon said: "Over the years, the surveys have reflected a growing appreciation of Asia's economic importance to New Zealand."
About three-quarters agreed it was good for the economy to have Asian companies investing in local businesses, up five points from last year, but felt ownership and control should remain in New Zealand.
The phone survey of 1000 people is part of regular research since 1997 carried out by the foundation to measure Kiwi perceptions of the peoples and countries of Asia.
Perceptions of Asia and Asian people
93% thought it was valuable to learn another language
64% Mandarin most valuable
80% believed Asia was important
66% knew little or nothing about Asia
46% of Aucklanders felt Asians are responsible for rising house prices
Source: Asia New Zealand Foundation
Read more
Read about how China's financial liberalisation affects NZ.