Grateful swimmer wants to thank mystery visitor who pulled him to safety from strong rip at danger beach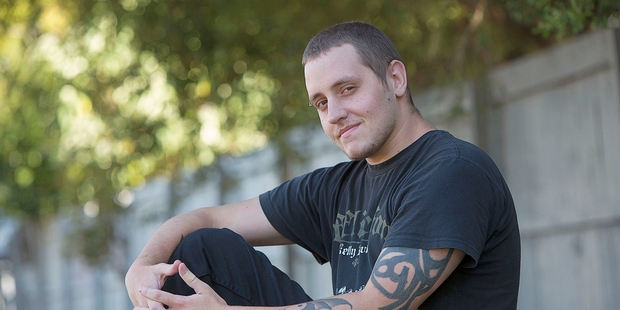 Can you help with the identity of the mystery rescuer? Email us here.
Stuck in a rip and being swept out to sea, Ricky Robinson was gasping for air in between throwing up water and being tossed under monster waves.
"I was pretty much staring death in the face thinking, 'My God, how could it end like this," the 22-year-old from Papakura said yesterday.
Mr Robinson was swimming at Hot Water Beach on the Coromandel Peninsula on Saturday with a friend when he was swept into a rip by waves up to 3m high.
"My friend saw what happened and she managed to get out of the water and call for help," he said.
At 100m from shore, he was in trouble.
Unable to keep his head above water and swallowing a lot of water, he saw a man swimming towards him.
The mystery man turned him on his back and swam with him back towards rocks.
The pair were knocked around by huge swells as they tried to grab on to the rocks.
"We were 2 to 3m from the rocks being battered around by the waves and he kept saying to me 'stay calm, keep going, keep going,"' he said.
The pair pulled themselves out of the water after what Mr Robinson thought was around 20 minutes in the ocean.
Lifeguards guided the pair from the rocks back to the beach where two paramedics were waiting.
The lifeguard liaison for Hot Water Beach Lifeguard Service, Sandi Lowe, said it wasn't a good day to be swimming at the dangerous beach.
"The waves were pummelling him," she said.
"The rip ran the length of the beach and was feeding to another rip that ran 1km out to sea."
She said Mr Robinson was obviously very distressed when he got to shore and was at risk of secondary drowning, where enough water enters the lungs to impair respiration.
He was immediately flown to Auckland's Middlemore Hospital by the Westpac Rescue Helicopter and did not get the chance to thank his rescuer, who he thought was a German tourist.
"I really regret not getting his details," Mr Robinson said.
"If it wasn't for [him] my family would have to deal with another death."
Ms Lowe said Mr Robinson was very lucky to have been saved by the tourist, who she said did not require medical treatment.
"He was responding really well to everyone's questions. He was obviously an incredibly fit and strong swimmer."
He spoke calmly to lifeguards but his details weren't recorded.
Mr Robinson, who had cuts and scratches
from the rocks, said he wanted to thank his rescuer for risking his life to save him.
- APNZ