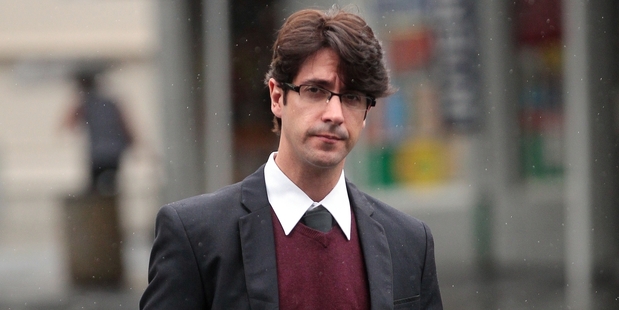 A young doctor was arrested as he prepared to board a plane - and effectively signed his own conviction with his handwritten departure card.
On Thursday, Daniel Lawrence Quistorff was found guilty at Auckland District Court after giving students dozens of fake medical certificates.
From California, Quistorff moved to New Zealand 10 years ago and studied in Auckland.
Quistorff, who referred to himself as "Mr McLovin" in an old social network profile, earned bachelor of medicine and bachelor of surgery degrees in 2009.
He later worked as a locum at Auckland City Hospital and an inner-city men's clinic.
In 2011, staff at Unitec and a local English language school became suspicious of medical certificates their students presented.
Some students were Saudis on scholarships requiring high attendance rates or legitimate reasons for absence.
The signature of "Dr David Montgomery" appeared on medical certificates, but no doctor of that name worked in Auckland.
In one case, a sick note from a different "doctor" had the same handwriting.
Suspicious teaching staff contacted the Auckland District Health Board, which showed the certificates to Quistorff. He said he hadn't treated any of the patients.
Detective Gill Holland arrested him at Auckland Airport in December 2011. His mother, Ana Rasmussen, told the Herald on Sunday her son was planning to visit her in California for Christmas.
At his trial this week, Crown prosecutor Brett Tantrum said an expert compared documents seized from Quistorff at the airport, including his departure card, against the 37 suspect sick notes and the handwriting on all was consistent.
Quistorff claimed he was a victim of the forgery, and offered to help track down the real culprit.
His lawyer, Arlan Arman, suggested someone could have copied Quistorff's writing, but the document analyst said such copying might require a lifetime of practice.
The court heard some foreign students involved did not have National Health Index numbers and would have had to pay $385 or more to get sick notes legitimately.
Quistorff's next appearance is on June 25, where he is expected to be sentenced on 37 counts of knowingly making a false document.
Judge Mathers said jail was a possibility but not inevitable.
The Medical Council said Quistorff's practising certificate ended in December 2011 and he had not held a certificate since.