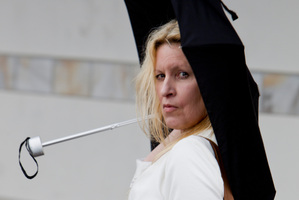 A woman who left her mother in an appalling state of neglect should be sent to prison for a long time after committing one of the worst cases of elder abuse this country has seen, Grey Power says.
Joanne Quinn, 51, was found guilty on Wednesday of failing to provide the necessaries of life to her elderly mother Maureen, who died in hospital six weeks after being found embedded on a couch in her Napier home, maggots covering the wounds on her legs.
Grey Power president Roy Reid could not think of a worse case of elder abuse. "I think the whole of New Zealand would be shocked that this sort of situation could even exist. "Unfortunately, a lot of elder abuse is caused by the actions of family members and it's pretty sad indictment on the way families are not prepared to look after their elderly relatives."
He hoped Quinn would get a long jail sentence as a deterrent.
New Zealand First leader Winston Peter said the state had some questions to answer in the case.
"This is a most serious case of elder abuse and a system should have been in place to ensure that people like Mrs [Maureen] Quinn are at least monitored over a regular period of time.
"It shows that there are people just being appallingly neglected. I followed the case and thought it was most alarming to think this was going in New Zealand of all places."
Medical staff discovered Maureen Quinn, 82, in November 2011 in her home in Marewa, where she had lived for 60 years and raised eight children.
She died of bronchial pneumonia six weeks after she was found by medical staff.
"I can't believe I had eight children and I've ended up in this state," she told them.
Joanne was her eldest daughter and sole carer.
University of Auckland Associate Professor of Law Bill Hodge said had the woman had died at home instead of in hospital six weeks after being found, Quinn could easily have been charged with manslaughter, which carries a maximum penalty of life imprisonment.
As it stands, she faces a maximum seven-year sentence.
"I think she will receive a sentence of a couple of years in prison unless she can prove her brothers and sisters overtly refused to help," Hodge said.
- with Hawke's Bay Today