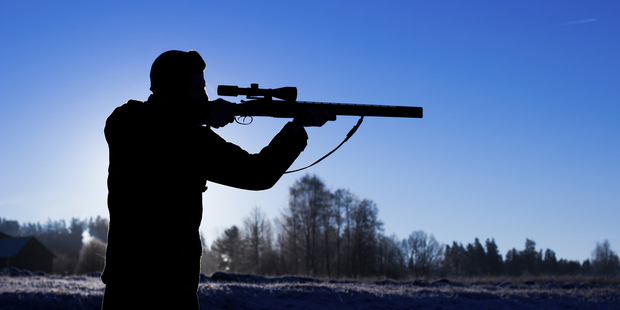 The year's busiest hunting season has been marred by a "disappointing'' run of four serious incidents in the first week.
A man was shot in the chest, two hunters were seriously injured in falls, and another had to be rescued after getting trapped on a ledge overnight.
The incidents all came at the start of 'the roar' - the prime deer-hunting season between April and May, when stags come out in force to mark their territory.
Mountain Safety Council firearms and hunter safety programme manager Nicole McKee was concerned by the incidents so far.
"For the beginning of the roar, it is indeed disappointing,'' she said.
"The roar itself is an exhilarating, adrenaline-pumping time and a lot of hunters wait all year for this particular time.
"The making of mistakes is done by unprepared people - the people that don't think through all the different scenarios and plan their hunt precisely, the people that let buck fever get to them when they really should know better.''
In the first incident, a 22-year-old Hamilton man lay on the ground with a gunshot wound for four hours while his father gave him first aid and his brother ran for help.
The trio had been hunting in isolated bush near Opotiki when the man was shot by another member of the party with a high-powered rifle.
His brother reached a friend with a personal locator beacon, who alerted the Greenlea Rescue Helicopter in Taupo. The man was flown to Rotorua Hospital, where he was in a serious but stable condition this week.
On Tuesday, a hunter had to be rescued from Fiordland after spending a cold and wet night trapped on a ledge he could not get down from.
He activated his personal locator beacon and was winched to safety by rescue helicopter.
Two days later, a Feilding man in his 60s fell down a ledge in the bush, but could not contact rescuers because his cell phone was out of range.
He had to drive to a garage near Wanganui to call for help, despite suffering serious head injuries.
The man was in Wellington Hospital with a fractured skull, a brain bleed and other life-threatening issues.
On Friday, a hunter suffered suspected spinal and chest injuries when he took a 30m plunge down a cliff in the ranges east of Taupo.
His fall was broken by trees before he came to rest on a shelf. A hunting companion scrambled down to him and activated a personal locator beacon.
The man was winched out by rescue helicopter and flown to Hastings Hospital, where he was in a stable condition yesterday.
Ms McKee said the seven rules of firearm safety could have been ``critical'' in the shooting incident.
"One of the most important rules is identifying your target beyond all doubt, but also checking the firing zone _ what's between you and your target, and what's beyond.''
Slips or falls were always a risk outdoors, Ms McKee said, but she was pleased no firearms had accidentally gone off during either of the falls.
"They're keeping their firearms still pointed in a safe direction,'' she said. ``That's a good thing.''
Rescuers had been alerted to three of the four incidents by personal locator beacons, which Ms McKee said every hunter should use. ``In the case of the young lad that was shot on Monday ... if they didn't have that beacon, it could have been several more hours perhaps before anybody could have got to the injured party.''
Ms McKee said hunters needed to to carry at least two forms of communication, and not just a cell phone.
"If you have two forms of communication, then you won't be trying to drive yourself in a serious condition to a garage.''
THE FIREARMS SAFETY CODE
1. Treat every firearm as loaded
2. Always point firearms in a safe direction
3. Load a firearm only when ready to fire
4. Identify your target beyond all doubt
5. Check your firing zone
6. Store firearms and ammunition safely
7. Avoid alcohol and drugs when handling firearms
- APNZ