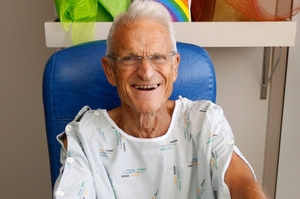 Seasoned triathlete Garth Barfoot is back competing, less than three months after breaking his thigh when he was knocked of his bike at a roundabout.
As he prepares to for the swim leg of Sunday's Barfoot and Thompson world triathlon series corporate race in Auckland a "baby" 750 metre dip the 77-year-old veteran competitor says he holds no ill will towards the woman responsible for his injuries.
That woman, 45-year-old care worker Louise Jean Tawhai, has admitted a charge of careless driving causing injury and will be sentenced next month in the North Shore District Court.
Mr Barfoot, a director of the Barfoot and Thompson property firm, suffered a broken femur and needed an emergency hip replacement operation after the crash at the intersection of Beach Haven and Birkdale roads in Auckland in January. Mr Barfoot had the right of way at the roundabout.
He's still not quite ready to get back on his bike but is swimming and walking, having yesterday pounded eight kilometres.
The speed of his recovery has amazed everyone and he's already done a couple of swims ahead of Sunday.
All this is in stark contrast to a couple of months ago when the veteran of more than 30 ironman contests was in no state to race.
"I had an impressive list of things I pulled out of I pulled out of the Taupo Ironman, the Melbourne Ironman, the Rotorua Marathon, the Motatapu Challenge."
Mr Barfoot met Miss Tawhai recently at a restorative justice session and described her as quite the character.
"I said to her don't worry about any [reparation] money. It's more important to look after your children.
"She didn't see me. It was a moment's inattention. I guess it could have happened to me."
Miss Tawhai said she often thinks about the crash.
She drives through the roundabout to work everyday and is now ultra cautious often attracting honks from impatient motorists.
Miss Tawhai faces a six-month disqualification from driving and said she would have to use public transport to get to work, get her kids to school and visit her father, who she looks after.
Hitting Mr Barfoot was the first accident she had ever been involved in, and she said she would "always feel bad" about it.
"I honestly didn't see him," she said. "But I'm really privileged to have met him even if it's under bad circumstances. I take my hat off to the guy."