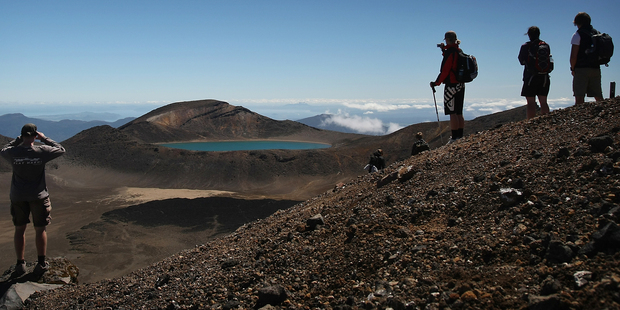 Hikers tackling the Tongariro Crossing are being urged to keep their wits about them as days become shorter and conditions more hazardous.
Police have had to coordinate 14 search and rescue operations in the last few weeks, and expect that figure to rise with the end of daylight saving on Saturday night.
Senior Constable Barry Shepherd said while some minor injuries and illnesses couldn't be avoided, hikers shouldn't underestimate the Alpine Crossing.
"It is not an easy hike and it's admirable to see so many people, across all age ranges, physically challenging themselves to take it on," he said.
"However, it is important that people are realistic about the challenge and the time needed to complete it, as this will only become more exaggerated as the days get shorter."
Hikers had been arriving prepared with the right equipment, but recent good weather was set to change as winter approached.
The onset of snow could bring avalanche risks to the area, he said.
"Clothing and equipment needs to be suitable for changeable weather conditions and visitors should be adding a torch to their gear in the event that they are caught out by darkness during the final stages of the track," Mr Shepherd said.
"Anyone planning to do the hike should ensure that but they are fully informed of the length and the level of fitness required before heading out."
Last Saturday, a woman in her 50s had to be flown to hospital after collapsing unconscious on the Devil's Staircase section of the crossing.
The previous weekend, two tourists had to be airlifted from the area after suffering asthma, dehydration and exhaustion.
The avalanche forecasting season starts in June.
- APNZ