NZ adoption means delighted couple can at last get passport for girl from Cambodia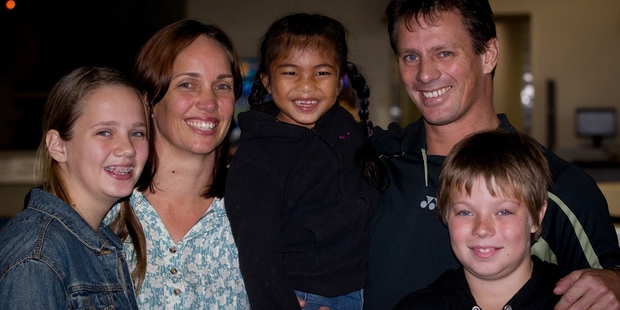 A young Cambodian girl adopted by a Kiwi couple has qualified for New Zealand citizenship after a five-year battle.
Jendah Dyer was last week adopted under New Zealand law by Grahame and Kathryn Dyer, allowing them to apply for a passport for the 8-year-old.
"We got the adoption through last Thursday in the Tauranga Family Court," Mrs Dyer told the Herald.
"So happy! Jendah is now able to apply for her NZ passport and we are free to come and go as a whole family!"
Mr and Mrs Dyer adopted Jendah in Cambodia in 2011 but were then told by the Department of Internal Affairs that she would not be granted citizenship because it did not recognise adoption processes carried out under Cambodian law before 2012.
Immigration NZ also deemed Jendah, who has a developmental delay disorder, to be too sick to be issued a visa to enter New Zealand.
However, the agency agreed to grant her a nine-month visitor visa last July after a directive from Associate Immigration Minister Nikki Kaye following a Herald report on their plight.
"I am sure that having our story in the Herald was a big part of us getting into NZ last July," said Mrs Dyer.
Mr and Mrs Dyer, originally from Paeroa, have been living and working in Cambodia as aid workers for a Christian organisation, Asian Outreach New Zealand, since 2004.
They have two other children, aged 12 and 13, and have been struggling to remain together as a family unit over the past five years because of Jendah's situation.
Without a visa or citizenship for Jendah, the family could not travel together to and from New Zealand.
Mrs Dyer said Jendah was abandoned by her mother as a baby and raised by a woman in her village who was "very poor and had no milk to give".
The family left New Zealand on Wednesday and are on their way back to Phnom Penh. They plan to make the citizenship application for Jendah when they return.
Jendah's journey
2009: First visit to NZ under guardianship of Grahame and Kathryn Dyer
2011: Adopted by Mr and Mrs Dyer under Cambodian law
2011: Second visa application lodged to enter New Zealand. Application for citizenship also lodged
2012: Application declined because she did not meet Immigration health requirements. Citizenship application also declined because NZ did not recognise Cambodian adoptions before 2012.
2013: Associate Immigration Minister directs Immigration NZ to issue a nine-month visa.
2014: Adoption approved under NZ law. Jendah now qualifies for NZ citizenship.