As sporting careers go this was one of the shortest but there are few more exciting rides than a speedway bike.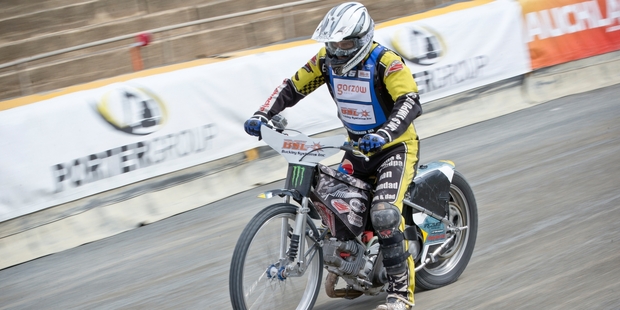 As a television motoring reporter, Shaun Summerfield has found himself in all sorts of vehicles travelling at all sorts of speeds, but today's activity - a blast around Western Springs on a speedway bike - is a whole new level of scary.
"I'm shitting myself," Shaun admits as we huddle on the infield grass awaiting our turns.
He's not alone.
Signing a waiver that basically says "if you die, tough tit" hasn't done much for the nerves, nor has a briefing from three-time world champ Ole Olsen that includes reassurances such as "we've got paramedics here".
For the uninitiated, speedway involves crazy buggers zooming around a gravel track at horrific speeds on machines with far too much power and limited capacity to stop quickly.
"No brakes, no gears, no fear," is the slogan promoting the opening leg of the world grand prix circuit in Auckland tomorrow night.
Having never ridden a motorbike at all (unless you count a four-wheeler on the in-laws' farm) I'm ignorant enough to have slept just fine. It's not until Ole starts the booming engine up that the nerves really kick in. Running on methanol, the 500cc machine weighs 77kg and produces around 70 horsepower.
"Good torque," Ole remarks as the bike roars into life. He says that like it's a good thing, but I'm far from convinced.
There's actually very little to worry about, Ole insists. While the bikes go like a leopard with its arse on fire when you open the throttle, the gearing means they slow down quickly once you close the throttle completely. Western Springs is a big track with plenty of room for error, so we shouldn't have too many problems.
Shaun survives. Then it's my turn. After a cautious opening lap it's time to open up the throttle down the back straight. A beautiful autumn day dissolves into a blur and the once inviting straight disappears in a blink.
Ole has pointed out a spot on the straight where it should be safe to keep the hammer down. Screw that, quite frankly. I close the throttle well short of the mark and the bike decelerates nicely. After four laps I'm starting to feel comfortable. Maybe a little too comfortable.
"Open it up a bit this time," suggests Ole as I climb on for a second stint.
This time I get on the throttle a little earlier down the straight and keep it open until much closer to the apex. Trouble. In an attempt to carry some speed into the corner, I've only partly closed the throttle. The bike doesn't slow enough and I veer close to the wall as I enter the corner. Not good. Where are the brakes again? Oh, bugger.
I'm keen to give it another lash but Ole's waving the chequered flag, marking the end of my speedway career.
I'd liked to have had one more crack, just to see if I could pluck up the courage to gun it around a corner and get a slide going. Then again, there's nothing wrong with quitting while you're ahead. Not to mention alive. The adrenaline rush lasts a good two hours.