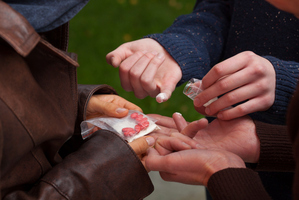 A Palmerston North student who imported drugs he ordered online has been jailed for four years and 10 months.
Benjamen Belmont, 20, was caught after three shipments of MDMA were intercepted by Customs officers at the International Mail Centre.
Searches of his properties uncovered more drugs including cocaine, LSD and methamphetamine.
He was also found to have more than $120,000 in cash and various bank accounts, most of which he had transferred into bitcoins, a digital currency which can be used for anonymous online trading.
Belmont was sentenced in Palmerston District Court yesterday on charges of the importation and possession for supply of Class A and B drugs.
He was also charged with illegally possessing a firearm.
Three shipments of MDMA containing between 144 and 568 pills, with a street value of about $65,000, were intercepted in April last year.
Smaller parcels of cocaine, MDMA and LSD had previously been intercepted.
A search of Belmont's home and found pills and a firearm, while a search of another property he occupied found more MDMA, cocaine, LSD and methamphetamine, along with over $80,000 in cash.
Belmont had created a sophisticated system, using several bank accounts, in an effort to avoid detection.
Customs investigations manager Maurice O'Brien said the sentence was a strong warning to people who wanted to profit from importing harmful substances.
"This young man believed he could import drugs in several small shipments and hide the profits without getting caught, but this type of offending does not go unnoticed."
Detective Sergeant Dave Thompson of the Manawatu CIB said both police and Customs were committed to preventing harmful substances reaching communities.
"The consequences for peddling illicit drugs are severe and those that choose to go down this path will be held fully accountable for their negligent actions," he said.
- APNZ