Mother of two tells of blaring sirens in coastal Chilean city.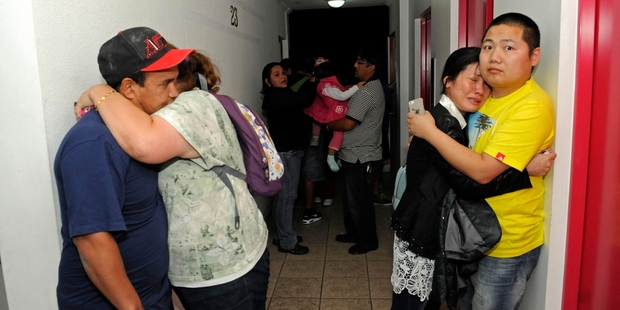 New Zealander Rachel Lilburn has felt earthquakes in Chile before but said yesterday's big one was much stronger than any others.
The 8.2-magnitude tremor caused landslides that blocked roads and set off a small tsunami that forced the evacuation of coastal areas for several hours.
President Michelle Bachelet declared parts of northern Chile hit by the earthquake as disaster zones, and as at 9.30pm New Zealand time five deaths had been reported.
Ms Lilburn, a freelance web designer, has been living in Chile for five years with her Chilean partner and children. The family of four live in the coastal region of Antofogasta, where tsunami sirens were blaring and people evacuated their houses and apartments to reach higher ground.
It was 8.45pm Tuesday in Chile when the quake struck. Ms Lilburn said she was at home with her partner and her sleeping children - a 22-month-old and a 3-month-old - when it began.
"I was on the second storey and felt it pretty strongly but my partner on the ground floor didn't feel it at all," she said.
Her children slept through the earthquake and the tsunami sirens.
"[Her partner's] older children live with their mother on the twelfth floor of an apartment building and felt it strongly."
Local media outlets were urging people to stay in safe zones above the tsunami danger zone on the coast, Ms Lilburn said.
Her house is above the evacuation zone so she stayed at home with her children while her partner went to check on his parents who were evacuated. Phone lines were overloaded, she said, and schools in Antofogasta had been closed.
Ms Lilburn's family in New Zealand had been in touch with her through Facebook and emails.
There are 192 New Zealand nationals registered in Chile. It was too soon for the Ministry of Foreign Affairs and Trade to know how many, if any, were affected.
The 10km-deep quake was centred 99km northwest of Iquique, Chile, an area that had felt many earthquakes in the last fortnight.
The quake was so strong the shaking experienced in Bolivia's capital about 470km away was equivalent to a 4.5-magnitude tremor, authorities told AP.
The news agency reported evacuations were ordered in Peru, where waves 2m above normal forced about 200 people to leave the seaside town of Boca del Rio.
The Chilean military had sent special forces to northern Chile to help police guard against looting, and about 300 inmates had escaped from a women's prison in Iquique.
In the city of Arica, 139km from the quake's epicentre, hospitals were treating minor injuries, and some adobe homes were destroyed. Ninety per cent of customers were without power.
More than 10 strong aftershocks followed in the first few hours, including a 6.2 tremor. More aftershocks and even a larger quake could not be ruled out, seismologist Mario Pardo at the University of Chile told AP.
NZ not at risk, officials say
The Pacific Tsunami Warning Centre issued a tsunami information bulletin after the earthquake, but Civil Defence did not deem New Zealand to be at risk.
Duty seismologist Lara Bland said a destructive tsunami was not likely to hit New Zealand, but people needed to be vigilant on the east coast of the country.
"There's a possibility things could be a little disturbed," she said.
Ms Bland said changes in water, such as faster currents, were likely and would be especially noticeable at estuaries and harbour entries.
The tsunami effect was estimated by GNS Science to reach New Zealand between 2.30am and 3am today.
This coincided with low tide for Gisborne and the East Coast.
"You couldn't time it better," Ms Bland said.
The National Crisis Management Centre was not activated.
- APNZ