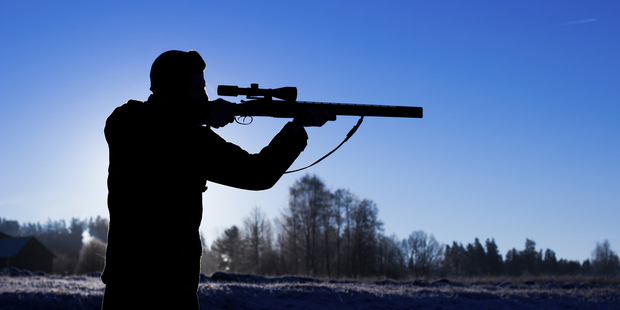 A 22-year-old Hamilton man with a gunshot wound in his chest lay on the ground of a Bay of Plenty forest for four hours while his father gave him first aid and his brother ran for help.
The Hamilton father and his two sons were hunting in isolated bush near Motu about 10am when the 22-year-old was shot from about 40m away with a high-powered rifle by one of the others.
Police said the father gave his son first aid while his other son made his way out of the bush to get help.
He reached a family friend with a personal locator beacon which was activated about 1.30pm.
A Greenlea Rescue Helicopter spokesman said a chopper was sent from Taupo as soon as the beacon was picked up by the Rescue Co-ordination Centre.
The injured man and his father were located and flown by the Greenlea Rescue Helicopter to Rotorua Hospital, where the 22-year-old had surgery.
He was now in a serious but stable condition.
Police would be speaking to everyone involved and would return to the scene this morning.
"It is early in the investigation and I will not speculate prematurely on the outcome. What I will say is that this young man is extremely lucky, especially given the amount of time that passed between the incident and reaching the hospital," Detective Senior Sergeant Greg Standen said.
"Regardless of how this particular incident occurred it is a timely reminder for all hunters. We are entering a very high risk period and it is crucial that basic safety steps are taken. That includes appropriate clothing and safety equipment as well as communication equipment, such as locator beacons that can save vital minutes and hours. Most importantly it means abiding by the number one rule of hunting - always identify your target.
Hunters urged to adjust mindset
Hunters are being warned to treat every potential target as a mate heading into this year's stag hunting season.
In April and May each year, stags come out in force to mark their territory.
Known as the roar, it is the best time of year for hunters to stalk stags, and subsequently one of the most dangerous.
The Mountain Safety Council has issued a plea to hunters to think twice before pulling the trigger - urging them to remember ``No meat is better than no mate''.
Firearms and Hunter Safety programme manager Nicole McKee said the expected increase in hunting activity should prompt hunters to revise the seven basic rules of firearms safety.
These include treating every firearm as loaded and loading only when ready to fire, always pointing firearms in a safe direction, identifying targets ``beyond doubt'', checking the firing zone, and staying away from drugs and alcohol.
Hunters should also make sure they store firearms and ammunition safely.
"Identifying your target beyond all doubt is perhaps the most important rule at this time of year and should be second nature to all hunters," Mrs McKee said.
Rotorua police head of search and rescue Detective Sergeant John Wilson said police wanted to see a change in thinking.
Instead of assuming the target was a deer, stalkers should assume the target was human, and "go from there"/
"The starting point is, whatever you see is a person. We want to change hunters' mindsets."
Last year's change to the firearms code was a positive thing, but it was too early to tell if it had had any impact, Mr Wilson said.
The change, which requires all new firearms licence holders to stick together, or stop hunting if they lose sight of one another, was brought in after Rotorua man James Dodds was killed by his friend and hunting companion in September 2012.
His partner Gabby Molloy asked the coroner to include the recommendation in the coroner's report.
Hunting safety
* Always identify your target.
* Wear high-visibility clothing.
* Always point firearms in a safe direction.
* Load a firearm only when ready to fire.
* Check your firing zone.
* Store firearms and ammunition safely.
* Avoid alcohol or drugs when handling firearms.
- APNZ