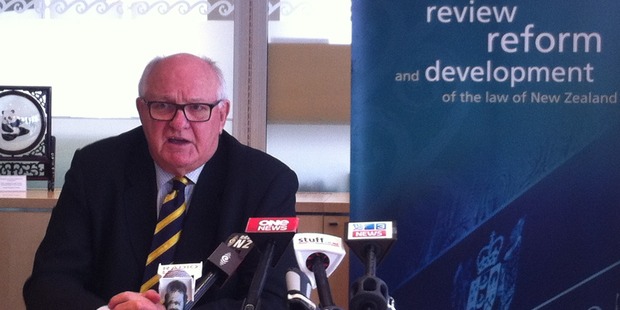 When media report the method in which somebody ends their own life, it can result in copycat suicides - which is why details of how people kill themselves should not be reported, the Law Commission says.
Commission president Sir Grant Hammond said the phenomenon was highlighted in the United States, just after the widely publicised death of Marilyn Monroe, when the suicide rate shot up by 25 per cent.
He also saw it in a small Bay of Plenty town which had suffered a number of "cluster" suicides.
"Practically all of them were identical," Sir Grant said.
The Commission today tabled in Parliament its recommendations around legislation governing the reporting of suicides, including not divulging the way in which a person took their life.
In the case of a matter of national interest, the Chief Coroner could exempt that ruling and allow details to be published.
It also recommended media could report a death as suspected suicide, if the facts supported that, but hold off from announcing the death was self-inflicted until a coroner ruled on the matter.
The paper has been widely welcomed by the Government, the Media Freedom Committee and suicide prevention groups, which said it would encourage discussion on an issue often seen as a taboo topic.
Chief Coroner Neil MacLean said it was a good balance that achieved more clarity about what was, or was not, appropriate to report.
Allowing the media to report a death was a suspected suicide paved the way for more discussion around the issue, he said.
"To some extent there has been a bit of a veil of silence ... and that hasn't made a blind bit of difference to the suicide rate."
Media Freedom Committee chairman Tim Murphy said the commission had struck a balance between openness and care.
"The commission's changes would remove the anomaly where mainstream media are barred by law reporting on a death, where social media are effectively uncontrolled.
"Getting the correct information out to the public in a responsible way is paramount."
Mr Murphy said he looked forward to more discussions with coroners, politicians and professionals about greater openness in all quarters about this "vexed social issue".
Lifeline New Zealand chief executive Jo Denvir said they believed it was a positive decision, and would replace the current media terminology of "no suspicious circumstances", which was generally read as suicide anyway.
"It also brings suicide into the conversation in a very subtle way which, for many, can mean a more open dialogue between friends and family members."
Casper Suicide Prevention operations manger Leteisha Cornes agreed, and said restricting reporting that a death was suicide was not giving an opportunity for a frank discussion about the topic.
Associate Health Minister Peter Dunne said there had been great interest in the risks and benefits of reporting suicide in the media.
"The Law Commission's report is an important opportunity to move the debate forward in a positive way. The commission has thoughtfully and sensitively approached both sides to this debate," he said.
Police said while the paper was still being considered, it was too early to say if they would make changes to the way they described a suicide death to media.
The Government will consider the Law Commission's recommendations and respond by September 2014.
The Law Commission's recommendations
* The current prohibitions should be repealed and replaced by provisions that only limit reporting the method of the suicide and the fact that the death was a suicide. However, a person may describe a death as a suspected suicide, where the facts support that;
* The restrictions should apply to any person who is reporting the details of a suicide death whether in mainstream media, social media, blogs, or otherwise. They should only apply to deaths that occur in New Zealand;
* A person should be able to apply to the Chief Coroner for an exemption from those restrictions, but applications are expected to be rare because the restrictions are narrowly framed. In granting an exemption, the Chief Coroner must consider that the risk of copycat behaviour is small and is outweighed by other public interest concerns;
* The Minister of Health should be required to prepare a new set of standards for reporting suicide. In doing that, the Minister must consult with representatives from the media and mental health interests; and
* The Minister should also be required to implement an ongoing programme to disseminate, promote and support the standards and to evaluate their success at achieving low-risk suicide reporting.
Where to get help
• Lifeline: 0800 543 534
• Suicide Crisis Helpline: 0508 828 865
• Youth services: (06) 3555 906
• Youthline: 0800 376 633
• Kidsline: 0800 543 754 (4pm to 6pm weekdays)
• Whatsup: 0800 942 8787 (noon to midnight)
• The Word
• Depression helpline: 0800 111 757 (24-hour service)
• Rainbow Youth: (09) 376 4155
If it is an emergency and you feel like you or someone else is at risk, call 111.
- APNZ