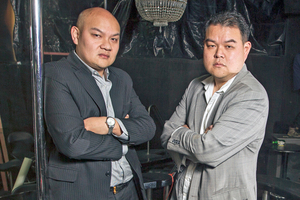 Liquor licenses have been granted to two brothels owned by the Chow brothers, with the licensing body saying it will not get dragged in to a "turf war" between rival stripclubs.
The licenses were granted despite the Alcohol Regulatory and Licensing Authority ruling there was evidence of irresponsible and unsafe behaviour in clubs owned by the brothel king-pins.
The decision follows a colourful two-day hearing in January as John and Michael Chow's applications to renew licenses for their two Auckland clubs in Karangahape Rd and Gore St were opposed by a rival stripclub.
Calendar Girls owner Jacqui Le Prou accused the Chows of regularly being intoxicated at work, intimidating the working girls, and called on former sex workers employed by the brothers to testify against them.
However, in a judgement due to be released this week, the authority said the evidence "totally lacked credibility".
"The authority is aware that there is a longstanding and bitter dispute raging between the Chow brothers and the owners of the Calendar Girls operations," the authority said in its decision.
"The functions of the authority ... do not include arbitrating over a turf war being waged by trade competitors."
However, the authority was concerned by reports of "excessively liberal sale, supply and consumption of alcohol" in premises owned by the brothers, including drinks promotions encouraging patrons to remain in private rooms for longer periods, incentives from alcohol sales and selling alcohol by the bottle instead of in smaller glasses.
The authority called on the relevant agencies to monitor the brothels "rigorously".
"Of course, if the applicant and other licensees are already compliant, they have nothing to fear," it said.
It was noted that policies at the two Auckland clubs had changed to limits of one bottle of alcohol per customer per day. This was "encouraging".
No conditions were imposed on the Chow clubs, as it would "run the risk of unreasonably" forcing them to adhere to rules that did not apply to their competitors.
- APNZ