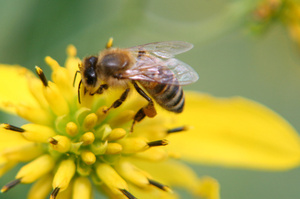 A man suffered an anaphylactic reaction to bee stings while he was mountain-biking with friends in a remote part of the Hunua Ranges, south east of Auckland today.
An ambulance wasn't able to reach the group and there was nowhere for the helicopter to land, Westpac Rescue Helicopter crewman and paramedic Dean Harvey said.
A paramedic was winched to the ground where the man - thought to be aged around 30 - was suffering from anaphylaxis and in a serious condition.
"He was quite lucky actually. His friends had some medication, some antihistamines that they had given to him,'' Mr Harvey said.
Mr Harvey didn't know how many stings the biker had received.
"I don't know whether he hit a nest or something. The track was very rough.''
The paramedic and the man were winched back on board the helicopter and transferred to Auckland Hospital.
- APNZ