Elderly osteoarthritis sufferers warm up, then launch into routine based on All Blacks' throat-cutting epic Kapa o Pango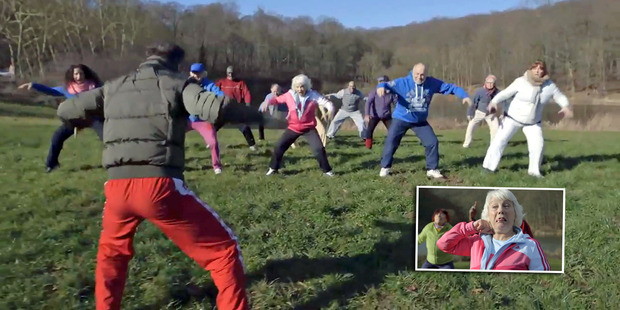 It has been used to sell cars, Coke, whiskey and gambling — now the haka is being used to encourage French people with osteoarthritis to exercise.
A clip on the website arthrolink.com shows a group of elderly people performing simple stretching exercises in a field before graduating to a full-blown haka.
A voiceover in French says: "Because the fight against osteoarthritis is an everyday combat. Discover the simple movement that will help you to save your mobility and many others tips on arthrolink.com. Arthrolink.com, a service from the Laboratory Expanscience."
Osteoarthritis is a degenerative joint disease. Treatment usually includes a combination of exercise and pain killing medication.
The haka in the ad bears a strong resemblance to the All Blacks' alternate haka Kapa o Pango, and even ends with its dramatic throat-slitting gesture.
A New Zealand Rugby Union spokesman declined to comment on the ad.
The copyright for Kapa o Pango is held by its composer, Derek Lardelli, an associate professor at Gisborne's Eastern Institute of Technology.
Mr Lardelli could not be reached for comment.
It is not the first time the haka has been appropriated for advertising purposes. Previously it has been used to sell whiskey, Coca-Cola, cars and promote gambling.
Auckland academic Steve Elers, a vice-chancellor's doctoral scholar at Auckland University of Technology who is researching the way Maori are portrayed in advertising, described the use of the haka for advertising purposes as "cultural theft".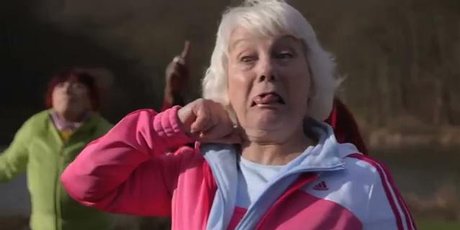 "The companies involved have demonstrated intercultural incompetence and a lack of corporate social responsibility," Mr Elers said. "The haka has become part of the All Blacks' global brand so to some extent I can see why everyone thinks it is a free-for-all.
"However, if you're going to use it in advertising, then the first step is flying to New Zealand and conversing with kaumatua on a marae.
"My research indicates that Maori do not want Maori cultural identifiers used in advertising without consultation, guidance and approval ofkaumatua and authorities in tikanga Maori.
"Using Maori cultural identifiers to connect with Maori can be a good thing if done correctly ... however these haka ads have nothing to do with that at all."
Cheesiest haka ads
• William Lawson's Whiskey (2001) — A fearsome troop of Maori-looking lads perform a haka on a rugby pitch in front of a bunch of kilt-clad Scots. The Scots respond by lifting their kilts. What they reveal is left to the imagination, thankfully. The ad won awards in France and Belgium.
• Fiat (2006) — The Italian car manufacturer wasn't to be dissuaded about using a bunch of black-clad women performing the haka in an attempt to flog what appears to be a compact people mover.
"At the time, we advised the advertising company that the use of Ka Mate in this way was culturally insensitive and inappropriate," a Ministry of Foreign Affairs spokesman said.
• Coke Zero (2010) — "A troupe of studs from Kiwiland in the traditional Maori haka dance" is how Coke Zero described an ad that featured actors dressed as All Blacks performing Ka Mate alongside Japanese popstar Namie Amuro and a bunch of dancing girls. "It sounds like crap'' was Ngati Toa spokesman Te Ariki Wi Neera's reaction.
• PMU (2011) — The French online betting agency produced the most bizarre haka ad of all time in 2011. With a bunch of jockeys performing a haka and riding imaginary horses on a rugby field, it resembles a scene from Monty Python and the Knights of the Holy Grail.