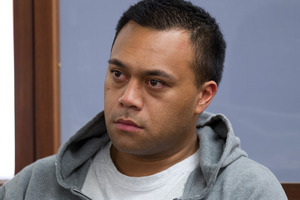 A week after being released from prison, Pita Phillip Edwards charmed his way into gaining access a number of businesses and organisations where he burgled and damaged property worth tens of thousands of dollars, a court was told today.
The 26-year-old was sentenced in Wellington District Court today to five years and three months imprisonment, after pleading guilty to 12 charges, including burglary, obtaining by deception and taking documents for pecuniary use.
Judge Denys Barry imposed a minimum non-parole period of two years and nine months.
Among the businesses Edwards gained access to were a government department, Otago University School of Medicine in Wellington, Wellington Hospital and Victoria University.
Edwards' lawyer Phillipa Sullivan said her client had "a skill of blending himself into a crowd".
He was charming and highly intelligent, but had been institutionalised since the age of 14 and had developed a deep sense of hostility towards authority.
Crown prosecutor Miriam Wilkinson said an aggravating feature was that Edwards' offending was committed just after he had been released from prison and was on parole.
Edwards would talk his way into gaining access to the building by giving a credible story as to why he was there.
Judge Barry said Edwards deceived a maintenance worker to gain access to the government department, where he and an acquaintance stole property worth $10,000.
Two days later he tricked a student at the Otago School of Medicine into allowing him to get to a locker room, where he took cash, a credit and debit card and a stethoscope - which he wore around his neck to get out of the building.
He wore that same stethoscope to Wellington Hospital to blend in but after scoping the place, he left empty-handed.
The same day he burgled a polytechnic at Petone after deceiving a security guard, Judge Barry said.
He talked a cleaner into giving him an identity card and keys before stealing items including a camera and a cellphone.
Four days later, Edwards broke into Victoria University campuses and took swipe cards, student documents, a cellphone and the master key for the university's locks.
It cost the institution $30,000 to replace all its locks, Judge Barry said.
Edwards was arrested after police monitored his bank accounts, cell phones and known addresses. They found him shortly after he cashed a stolen cheque.
Judge Barry said Edwards had an "extensive" criminal history, starting when he was a youth.
During his adulthood, he had amassed 63 convictions, mostly for dishonesty, which resulted in 30 prison sentences.
Judge Barry said that as a result of the latest offending, he had received 13 victim impact statements, in which the impact of Edwards' offending had been "profound".
"The hospital sees a serious reflection on its integrity with you parading about with a stethoscope."
Edwards' offending was a "calculated targeting of large, populace agencies, including educational and medical facilities...that are reliant on taxpayer funding to function", Judge Barry said.
Edwards was facing a further burglary charge that was not dealt with during today's sentencing. Judge Barry remanded him in custody without plea until next month to deal with that charge.
- APNZ