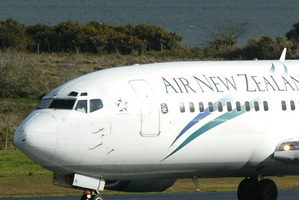 The cause of a sudden loss of cabin pressure aboard a domestic flight last year, forcing 76 passengers to don oxygen masks, may not be known for several months.
Air New Zealand flight 414 had left Wellington bound for Auckland when it encountered a problem while descending over Raglan on August 30.
The pilot was praised for his quick action in bringing the Boeing 737-300 down from 33,000 feet to around 7000 feet, where cabin crew told passengers they could take off their masks.
The aircraft landed at Auckland without further incident, and Transport Accident Investigation Commission (TAIC) experts immediately launched an inquiry.
Seven months on, the investigation is ongoing, a spokesman for TAIC confirmed.
A report was not likely to be completed before September this year, he said.
Most TAIC investigations take around 18 months.
Olympic triathlete Hamish Carter, who was on the flight, said the experience was "a bit of a shock''.
"It was relatively scary for a while, not something you'd expect to happen.''
Passenger Thomas Wutzler texted a farewell note to his family.
``I wrote explaining to my family and friends that I loved them. We were descending very, very fast and it was shuddering quite badly.''
MP Claudette Hauiti tweeted that passengers were calm, but her oxygen mask failed to drop.
- APNZ