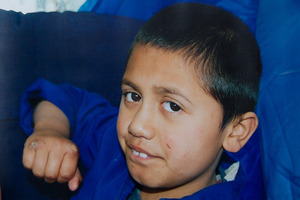 The police officers who found a severely autistic 11-year-old dead in an Auckland pond have today defended their actions in not jumping straight in to retrieve him.
Julian Stacey died after escaping from respite care centre Garden Court in Mangere on February 7, 2010.
Julian slipped out a side gate and despite a "crisis plan'' saying he would likely head to a pond near the facility, run by the Spectrum Care Trust Board, police were only directed there when Julian's mother Natasha Stacey mentioned it to officers.
Acting Sergeant Joel Stewart was the first police officer on the scene. At a coroner's inquest in Auckland today, he said he was not told by emergency service dispatchers how much of a risk Julian, who had the functioning of a 2-year-old, was.
Mr Stewart also said he would have gone straight to the pond if he'd known Julian could be there.
Two constables found Julian in the pond and one of them photographed him in the water before he was pulled out.
"My observation was that he was deceased,'' Mr Stewart said. "When I first looked at him he was very still. He was quite sunken low in the water. There was sediment around the top if his head.''
When asked by the Stacey family's lawyer Moira Macnab if police should have tried to save Julian's life before collecting evidence for a possible investigation, Mr Stewart said he didn't agree.
"My train of thought was that someone has to be held responsible for an 11-year-old getting himself out of a care facility like that.''
But Mr Stewart said he could understand why a non-police officer might think differently.
Constable Ross Knowles first spotted Julian. He said he tried to drag him out of the pond, but couldn't reach him.
Little time was lost by his fellow constable photographing Julian, as this happened while Mr Knowles tried to grab the boy, he said.
Spectrum Care general manager Warren Herring said he would have expected Garden Court staff to consult Julian's "crisis plan'' and ring an advisory number when the boy went missing.
In this case it took at least 15 minutes for that call to be made, which Mr Herring said was a "reasonable time''.
Mr Herring said he would have expected staff to fully appraise 111 call centre workers of Julian's condition. Instead staff member Vijay Naidu made the emergency call but said Julian functioned normally for his age.
The gate he escaped out of could be unlocked from the outside and Mr Herring said it had now been boarded up, one of a number of changes made after Julian's death.
Earlier in the day, team leader at Garden Court Angela Larsen said in early 2010, staff understanding of crisis plans was low she did not understand the "catastrophic'' and "extreme'' risk Julian faced if he escaped.
Coroner Peter Ryan reserved his findings.
- APNZ