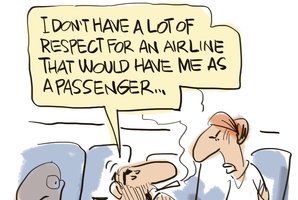 A drunken airline passenger who lit a cigarette and claimed to have an AK-47 assault rifle in his bag has been fined $500 and banned from the airline for his return trip home.
The man, an Australian aged in his 30s, was escorted off the Jetstar flight by police officers once it landed at Christchurch, from Melbourne, on Monday morning.
Sergeant Brian Kench, of Christchurch Airport police station, confirmed today that the "belligerent and disruptive" man was issued with an unruly passenger infringement notice for $500 for breaches of the Civil Aviation Act.
Immigration New Zealand had no involvement, and the man was allowed to enter the country.
"We don't have any legislation to turn Australian citizens around," Mr Kench said.
"He was allowed to land, before being issued with this $500 infringement notice.
"But he has lost his return ticket and will have to find another way home."
A spokesman for Jetstar confirmed the "antisocial" passenger has been banned for an undisclosed period of time.
The man had been drinking before boarding the Christchurch-bound Jetstar flight JQ 171 which left Melbourne at 11.45pm local time.
He ordered several beers on the flight and his increasingly loud behaviour began to raise the concern of cabin crew, APNZ has been told.
While starting out simply loud and obnoxious, he suddenly put the entire plane's inhabitants at risk when he lit a cigarette.
"He had a few puffs and a couple in front of him, who had a baby, said, 'Hey, you can't do that'," one startled traveller said.
"He told them to 'f*** off', but they were more worried about him smoking around their young child. I was more worried about flames on a plane."
Four female cabin staff tried to calm down the man without much success.
Asked if he was intoxicated, he replied: "Of course I'm drunk. I've been waiting in the airport for four hours, of course I'm drunk."
He asked to be let off the plane immediately.
When cabin staff highlighted the difficulties involved in such a manoeuvre while flying 34,000 feet above the Tasman Sea, he became even more agitated.
"Get me off the plane. I'll break a window if I have to," he was heard saying. "When are we there? Hurry up!"
A flight attendant managed to commandeer his cigarette lighter and asked for his bag in the overhead luggage compartment to check if he was carrying any other contraband.
It was then that he declared, "Yeah, take the bag. It's got an AK-47 in there."
After landing, passengers were made to wait as officers board the plane and escorted the man off.
He was fined and let go.
- APNZ