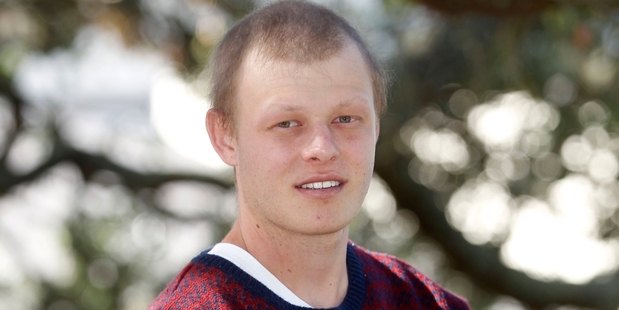 A man battling serious health problems unwittingly saved the life of a badly bashed man because he did not want to be guilty of the "bystander effect".
David Batchelor, who had recently been diagnosed with cancer, was sitting in his car on Central Rd in Kingsland in November after attending an open mic night when he witnessed a brutal assault.
He picked the victim up off the road and drove him to Auckland City Hospital's emergency department, which police say saved his life. Unbeknown to Mr Batchelor at the time, the victim had a near-fatal break to his neck and any movement could have killed or paralysed him.
At the time Mr Batchelor, a 22-year-old master's degree student, did not think much of his efforts and only realised how serious the situation he had intervened in was when police released a photograph of him from hospital security footage and appealed for him to come forward.
He spoke to the Herald this week, between his own hospital appointments, about the night of the assault.
"The street was empty and I was sitting in the car texting. I saw three people walking up the street," he said.
He then saw one of the men assault another. That man pleaded guilty to the assault in the Auckland District Court but disputes some of the facts of the case. A disputed facts hearing will be held before he is sentenced, meaning the Herald cannot publish specific details of the assault.
Mr Batchelor said the assault left the victim unconscious on the road.
"I was like 'holy crap'. I waited until the [offender] walked past my car and then I got out to see if the [victim] was okay," he said. As the victim came to, Mr Batchelor helped him into the passenger seat, which he had adjusted so the man could lie down. He considered calling 111 but decided it was quicker to take the victim to hospital himself.
After being diagnosed with Hodgkin's lymphoma in September Mr Batchelor was undergoing chemotherapy and not feeling well.
But he did not hesitate to help the victim.
"Why did I do what I did? I was concerned about the whole bystander effect and I didn't want to be part of that.
"And I was the one sitting there who saw it, so I was responsible," he said. "I couldn't just sit there."
When he knew police were looking for him, primarily to give a statement to support the prosecution of the offender, he came forward as soon as possible.