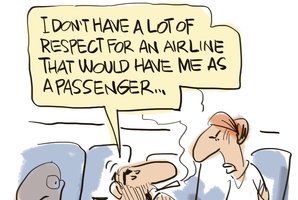 A drunken passenger on a flight to New Zealand caused an alert yesterday by lighting up a cigarette in his seat then claiming he was carrying an AK-47 machinegun.
The man, an Australian in his 30s, had been drinking before boarding the Christchurch-bound Jetstar flight JQ 171, which left Melbourne at 11.45pm local time.
He ordered several beers on the flight and his increasingly loud behaviour began to raise the concern of cabin crew, the Herald has been told.
While starting out simply loud and obnoxious, he suddenly put the entire plane's inhabitants at risk when he lit a cigarette.
One passenger, who did not wish to be named, was stunned to see the flicker of a naked flame from his seat behind the passenger.
"He had a few puffs and a couple in front of him, who had a baby, said, 'Hey, you can't do that'," the startled traveller said.
"He told them to 'f*** off', but they were more worried about him smoking around their young child. I was more worried about flames on a plane."
Four female cabin staff tried to calm the man down, the passenger said.
Asked if he was intoxicated, he replied: "Of course I'm drunk. I've been waiting in the airport for four hours, of course I'm drunk."
He asked to be let off the plane immediately.
When cabin staff highlighted the difficulties involved in such a manoeuvre while flying 34,000 feet above the Tasman Sea, he became even more agitated.
"Get me off the plane. I'll break a window if I have to," he was heard saying. "When are we there? Hurry up!"
A flight attendant managed to commandeer his cigarette lighter and asked for his bag in the overhead luggage compartment to check if he was carrying any other contraband.
It was then that he declared, "Yeah, take the bag. It's got an AK-47 in there."
Another man, described as looking like "an off-duty cop, or someone who could handle himself", was then brought to sit beside the man.
He talked to him quietly and managed to calm him down.
When the flight landed shortly before 5am (New Zealand time) yesterday, the other passengers were made to wait as the man was escorted off the plane by police.
"He didn't go kicking and screaming," one passenger said.
A spokesman for Jetstar confirmed the crew had handled a disruptive passenger on the flight.
"Police met the passenger upon arrival in Christchurch, and the matter is now with the police," he said.
"Jetstar does not tolerate antisocial behaviour."
Customs confirmed that the passenger was referred to Christchurch Airport police. Last night, the police were unable to say whether the man had been charged.
- APNZ