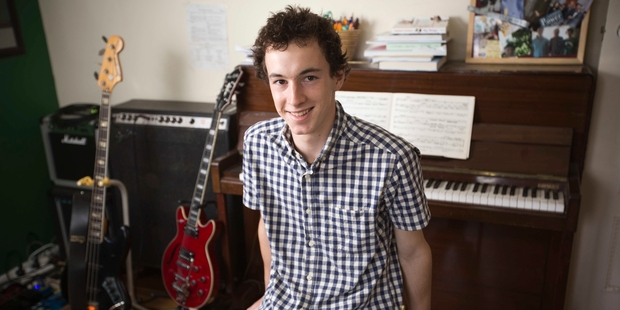 A $200,000 scholarship to study music at Cambridge University is a dream come true for student Paul Newton-Jackson.
The Hamilton teenager beat off stiff competition from other New Zealand applicants to win the Girdlers' Scholarship to complete an undergraduate degree in music composition at Corpus Christi College.
It covers tuition and living expenses, but more than that, Mr Newton-Jackson said it would open up opportunities he could only have dreamed about until now.
"For a musician, collaboration is a pretty big part of it and a place like Cambridge will be attracting all sorts of passionate and inspired people from all around the world who also have these cool ideas, so I think that will give me a big chance to make lots of cool connections and collaborations."
The 18-year-old is a gifted musician playing five instruments, the piano - which he began learning at 7- the guitar, bass, drums, and the pipe organ, which he learned at St Paul's Collegiate where he was deputy head boy and dux last year.
He's also had violin lessons but "absolutely can't" play it and can hold a tune though said he's no solo singer.
Mr Newton-Jackson, who is studying electrical engineering and music at the University of Waikato through a Sir Edmund Hillary scholarship, said he has been writing all types of music since he was young, and wants to pursue a career in music composition.
The scholarship was a phenomenal opportunity to study his passion and would be a life-changing experience, he said.
"It's a chance that there's no way I would otherwise get. Even regardless of the financial side, Cambridge is a really difficult university to get entrance to because it's so renowned and competitive.
"It's basically a dream come true to be able to study at the place that's famous around the world for being one of the world's leading academic institutions."
Mr Newton-Jackson is interested in writing soundtracks for the film industry, but said his options were open.
He was offered the scholarship after a successful application and interview including being shortlisted with six other candidates.
The scholarship is presented each year to one New Zealand student who demonstrates strong academic success and regular participation in extracurricular and community-related activities. Mr Newton-Jackson is the 50th recipient.
St Paul's headmaster Grant Lander called Mr Newton-Jackson a remarkable, multi-talented young man who was a hardworking and contributing member of society.
"Paul excels in all aspects of life; he achieved great academic success in all of his scholarship subjects, is a musical genius and impressively shows a willingness to give something regularly back to his community through volunteer work."
The scholarship was presented to Mr Newton-Jackson last night at a function in Wellington attended by Deputy Prime Minister Bill English.