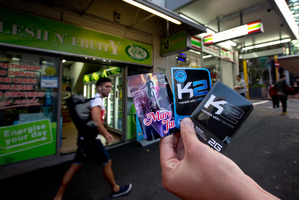 Three Westport people have been charged with selling legal highs without a licence.
Police executed two search warrants at Westport addresses in relation to the illegal sale of psychoactive substances, commonly know as legal highs, on February 25, said police communications manager Barbara Dunn.
Senior Constable Paul Sampson had been dealing with public concerns regarding the use and supply of legal highs in the Westport community, she said.
Public concern at the effects the substances were having on the community had been raised through various sources, including social media and public meetings.
West Coast area commander Inspector John Canning made it a priority to investigate and take the appropriate action if offending was identified, Ms Dunn said.
Since the introduction of the new Psychoactive Substances Act in July last year it had been illegal for anyone to sell the products to others without an approved licence. Police nationally had been proactive in enforcing the new law.
The restriction on sales includes bartering or swapping the products for items of value.
There was currently only one person on the West Coast with a licence, Ms Dunn said.
Evidence from around the country strongly suggested thefts and burglaries increased where there were problems with psychoactive substances.
A stolen item was located at one of the Westport addresses.
Sergeant Brent Cook of Greymouth police said police tracked down the alleged offenders through community information supplied to Westport police.
He encouraged others in the community to assist police. They could do so by calling Crimestoppers on 0800 555 111.
There were more illegal operations present throughout the Coast and New Zealand and the most recent charges were just a start, he said.
Police wanted people to know the Psychoactive Substances Act was being enforced and that they took community concerns into account.
The alleged Westport offenders were now before the court.
- Westport News