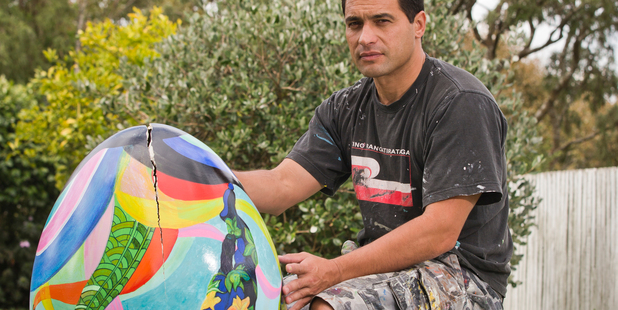 An artist whose work has been vandalised said he can't understand why someone would trash public art that has been created to raise money for sick kids.
Auckland-based artist Jimmy James Kouratoras decorated a giant easter egg that was on display in Latimer Square in Christchurch as part of the Big Egg Hunt, raising money for the Starship Foundation. Someone removed the egg from its stand and smashed it on the ground on Friday night - leaving the art work in pieces.
"I'm sad about the way people treat public art. It's an artwork made for a good cause and it's mindless and sad," Mr Kouratoras said.
He said he plans to repair the egg, and the auction for his artwork will still go ahead.
"I think I'll be able to turn the crack into something cool," he said.
Three eggs had been removed from the hunt because of severe vandalism, and others were being repaired after being tampered with.
Mr Kouratoras said if more eggs are trashed he would be hesitant to participant in a public art project again. He had spent a month working on his design and painting the egg.
Chief executive of Starship Foundation Brad Clark said the organisation was disappointed the vandalism had occurred.
"It's a slap in the face for the artists, sponsors, supporters and the public who are all in behind The Whittaker's Big Egg Hunt, and it breaks our heart that Starship kids and their families may not benefit from these eggs being auctioned for their full value."
One hundred giant eggs were hidden in secret locations throughout Auckland, Wellington and Christchurch last Thursday to kickstart the Easter egg hunt that runs until April 22.
Dozens of volunteers helped to hide the eggs - which have been decorated by people including Dick Frizzell, Dame Trelise Cooper and Colin Mathura-Jeffree.
The project supports the Starship Foundation, a charity supporting the national children's hospital.
Each egg has a unique code on it that can be texted in to win the overall prize, a 340g 18ct Gold Slab made by Partridge Jewellers.
The giant eggs will be auctioned off for Starship; 80 on Trade Me and the remainder at a gala event on April 16.
Whittaker's will also give at least $150,000 to the Starship from sales of its Peanut Slabs and other chocolate products during the hunt.
Information about the Big Egg Hunt, including city maps, is on www. thebigegghunt.co.nz and on Facebook at www.facebook.com/BigEggHuntNZ
- APNZ