Warning of congestion and delays as contractors restrict roads to build tunnel for $11m Grafton Gully link.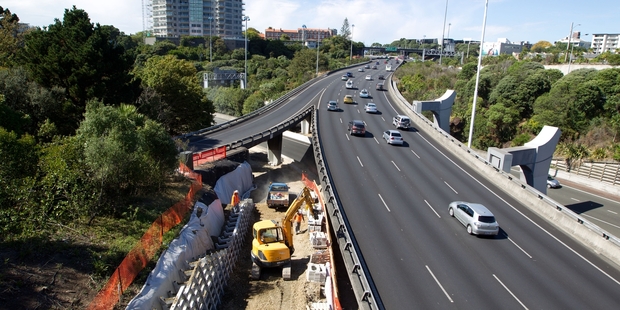 Auckland's flagship $11 million Grafton Gully cycleway will require traffic restrictions from today as contractors prepare to tunnel under busy Wellesley St East.
The cycleway, which Transport Agency contractors are threading between traffic lanes through Spaghetti Junction, will provide riders and pedestrians with a 1.9km path from Upper Queen St to the bottom of Grafton Gully from September.
Workers were busy at the weekend building a retaining wall for the cycleway under the Symonds St bridge and around to the gully.
Today, they are due to start restricting to one lane eastbound traffic heading from the city along Wellesley St to the motorways or Auckland City Hospital.
That will be followed by other lane restrictions on Wellesley St and the adjacent motorway off-ramp until Good Friday on April 18, from when there will be a full road closure through the Easter break.
"The restricted access will mean some congestion, which will delay people," said Transport Agency highways manager Tommy Parker.
About 400m of the central city end of the cycleway is complete, but a covered trench to be dug through Wellesley St for an underpass will be the project's main structure, giving riders a choice between branching off via the University of Auckland or continuing to the waterfront.
Auckland Transport intends to extend the route by about 800m along Beach Rd for about $3 million by providing a two-way cycling path.
The Transport Agency said after the death of a cyclist in January at the intersection of Beach Rd and Stanley St that it was on track for an earlier finish.
The project is supported by Cycle Action Auckland as an extension of the Northwestern Cycleway from Henderson. But the group fears a lag between the completion of the main project, and Auckland Transport's add-on, to bring the cycling "superhighway" into the heart of the city.
It also warned that more cyclists may be killed or injured unless the bikeway is extended on a more direct route to the waterfront.