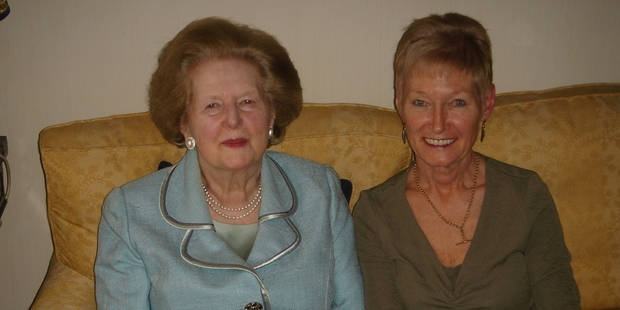 She was loved, loathed and feared.
So aides of Margaret Thatcher expressed little surprise when Kiwi nurse Pip Easterbrook didn't want to work for the woman known as Britain's Iron Lady. Even aged 81, former English Prime Minister Baroness Thatcher frightened the 56-year-old mum from the other side of the world.
"I thought 'I'll get to meet her'. But, she was so nice. I got the job on the spot."
For a year from December 2006, Easterbrook worked as a nurse and companion for Thatcher, alongside fellow Kiwi, Kate Sawyer. Sawyer, who remained Thatcher's carer until the latter's death a year ago next month, has never spoken of her decade with the polarising former Tory leader.
Sawyer, who still lives in the UK, said Thatcher was a "wonderful lady" but she would never speak about their time together, as it would break patient confidentiality. "She was also my very good friend. It's just something very special to me, that relationship I had with her."
Easterbrook said Thatcher told her that her years at Number 10 were the best of her life.
Thatcher, who survived an IRA assassination attempt, lived behind bullet-proof glass and needed permission to open a window.
Security extended to hiring.
"They chose New Zealanders because we're not political."
Easterbrook suggested an Irish friend take over when she left, but was told no one from the Emerald Isle would get that close to Thatcher.
As well as meeting a parade of peers and politicians, Easterbrook listened as visiting former United States first lady Barbara Bush spoke about the Iraq War.
"She was saying, 'George [W. Bush] has no guilt about that, he did the right thing'."
Thatcher's best gift to her was to keep an open mind, Easterbrook said, and not judge people before you know them.