Aviators feeling weight of expectation on them in efforts to find signs of missing Malaysian aircraft.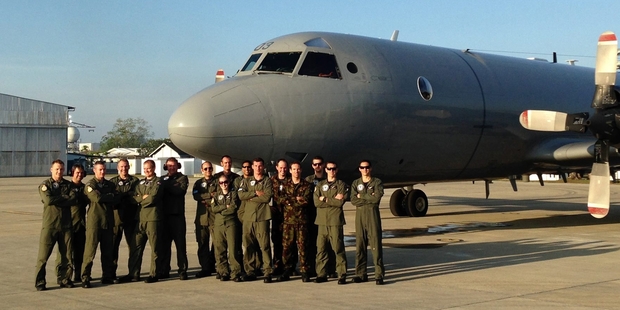 New Zealand aviators searching for the missing Malaysian airliner are expected to be "pumped up ready to go" again this morning after earlier disappointments.
Air Commodore Mike Yardley acknowledged the New Zealand Air Force Orion crew involved with Australian and United States military aircraft in the hunt had returned deflated from the first day's search in the Indian Ocean 2500km southwest of Perth, on Thursday.

"But once again, as soon as you're out there the next day, you're pumped up ready to go," he told the Weekend Herald.
"You know it is so important, there are people who are waiting on the information from you, so you very much have adrenaline going with the search and it keeps you alert."
The 11-member Kiwi air crew, who left Whenuapai with seven ground support staff on March 10 for Malaysia and have since been diverted to Perth, had a rest day after returning to base early yesterday while three Australian P-3 Orions and a US P-8 Poseidon maritime surveillance aircraft kept up the search.
That followed three days of 10-hour shifts and a 12-hour stint to the search area and back on Thursday for the Kiwis.
The Air Commodore, head of the air component of New Zealand's joint military forces, said the searchers had begun looking over a sector of ocean at the furthest point to which it was considered possible a 24m piece of debris spotted by satellite six days ago could have drifted - given the strength of sea and wind currents.
They were now working methodically back from that area, closer to where it was seen.
"The aircraft and the sensors and the people are excellent, so if there's something floating out there and we are in the area, we will find it, that I have no doubt about."
He expected the New Zealand P-3K2 Orion, tooled up with new radars and optics from a $352 million upgrade of this country's six-strong maritime surveillance fleet, to be back over the search area this morning and again tomorrow.
"At the moment we haven't got the flight programme from the Australians, but we will certainly be airborne - I'm assuming we'll be one of the first aircraft out," he said.
"We'll be out there on Sunday as well, I imagine, as long as we are asked - no one has put an end date on it so far."
Air Commodore Yardley said the capability of the Orion's radars had been confirmed by their ability to pick out whales and dolphin in the rough sea of the search area.
"The sensors we have are first rate - you know if you can pick up dolphins the radars have got to be pretty good because they don't stay above the surface very long and you obviously detect them when they broach the surface."
He said that in the difficult weather on Thursday and yesterday, the Orions' four turbo prop engines provided greater flexibility and manoeuvrability than the jet-powered US Poseidon.
The New Zealand aircraft is capable of flying as low as 70m above the waves, but kept to about 100m on Thursday because of the rough conditions.
But that allowed it to get under a bank of low cloud over a part of the ocean which is about 3000m deep.
Asked whether the debris could have been a lost shipping container, he said that was possible but the largest shipping containers were only about 14m long.