Legal battles and upkeep of berths create discontent in exclusive gated community.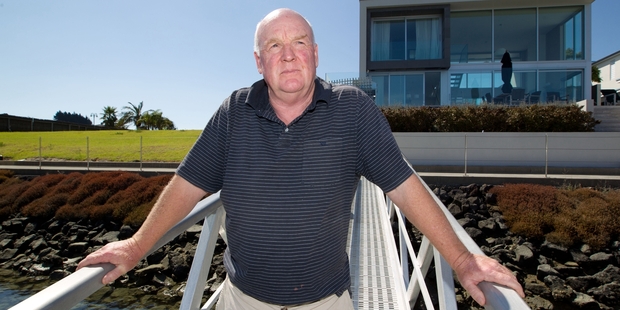 It's an exclusive gated community with fine homes and berths for luxury launches - a peaceful retreat for those who can afford to live there.
But behind the closed gates, the Gulf Harbour community has long been a roiling mess of discord.
This Tuesday, those who have taken on the role of overseeing the village and its multitude of body corporates are bracing for the annual meeting. Like other years, the community gathering is expected to produce finger-pointing and frustration.
'Alan Flitcroft, deputy chairman with special responsibility for legal issues, believes there are many problems within the Gulf Harbour Marine Village.
"Too high density, too many people without enough to do, too many body corps. It's always fun in Gulf Harbour."
This year, the arguments focus on one of the development's most exclusive streets - the expensive Cap d'Amarres, guarded by high gates opening only for those whose biometric details are programmed into a handscanner.
When completed in 2003, the developers wrote to land owners saying their ambition to make it an exclusive community had worked. There had been doubts, they said.
"To be honest, there have been times when we have seriously questioned the wisdom of what has proved to be a very expensive decision."
Ten years on, only five of the 16 properties have been built on, including one where Mr Flitcroft lives.
The focus of discord this year is $173,000 split into two parts - a pot of money for maintenance of Cap d'Amarres berths and a $53,000 legal bill for a case aimed at keeping the community exclusive by banning non-residents who had rented berths.
The solution to at least one argument is politician Colin Craig, whose property management company Centurion handled Gulf Harbour's contracts for about seven years.
All residents in Gulf Harbour belong to two body corporates - their local community and the wider village. All residents pay fees, including berth maintenance fees, to the Gulf Harbour Marine Village Residents' Association, which then carries out a range of duties.
Under Centurion's management, fees for Cap d'Amarres berth maintenance were paid to the Gulf Harbour association - then paid back to Cap d'Amarres on the understanding it did its own maintenance.
The money sat in the Cap d'Amarres account while the Gulf Harbour association became frustrated at a perceived lack of berth maintenance. It is now seeking the money back while a number of the Cap d'Amarres residents want to hold on to it, citing the agreement managed by Centurion which, so far, no one can find - and might not exist.
Incidentally, says Mr Craig, it doesn't exist. It was an arrangement which worked at the time but was never formal. Of Gulf Harbour, he says: "You've got an environment where there are some pretty determined individuals."
Then there's the $53,000 legal bill hanging over from a case between members of the Cap d'Amarres association. When some owners of undeveloped land sublet their berths, others (including Mr Flitcroft) objected to "their guests, their dogs, their service people, their yacht brokers and Uncle Tom Cobley and all" having access. "Sounds like me," says Mr Flitcroft of the quote from a community newsletter.
The Gulf Harbour association wound up with the legal bill after five judgments during the spat, and now wants the money from new and old Cap d'Amarres residents.
"It's not a good community feeling at the moment," says Mr Flitcroft.
Gulf Harbour always has issues, he says. "There's a group of people I refer to as the 'dirty dozen', out of 360-odd members. The 'dirty dozen' changes from year to year - somebody drops off, somebody croaks, somebody sells up and moves away. The 'dirty dozen' will try to undermine as much as they can."
Among them, this year, are some in the Cap d'Amarres association. Recently resigned chairman Alan McCracken bought into the area a year ago and accepted the chairman's job, excited about being part of the new community where he planned to build a family home.
Then he quit as chairman, aghast at the battles, discontent and fighting over bills from earlier rows.
He can't understand why issues can't simply be discussed and calmly settled.
It seemed impossible to just live there without having "big arguments break out and lots of lawyers get involved. It should never have got to that point".
The committee should meet once a year "to see if the gardener is doing a good job". Instead, it was without a chairman because "nobody wants it. It turned into a riot. Why should it be so complicated?"