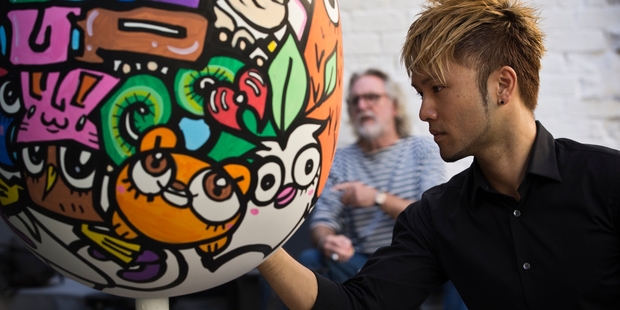 A giant Easter egg hunt kicked off yesterday to raise money for Starship children's hospital.
As part of the launch - which includes 100 giant Easter eggs hidden in Auckland, Wellington and Christchurch - artist Jun Arita painted his egg live in Auckland yesterday.
Starship spokeswoman Andrea Newland said Jun, originally from Osaka in Japan, was influenced by pop art and traditional Japanese art. His egg was sponsored by iHeart Radio.
The egg took about four hours to decorate at Ostro restaurant in Britomart yesterday morning.
Others who have created eggs include Dick Frizzell, John Pule, Max Gimblett, Gregory O'Brien, Karl Maughan, David Trubridge, Nigel Brown, Seraphine Pick, John Reynolds, Michel Tuffery, Virginia King, Beck Wheeler, Hannah Jensen, Dame Trelise Cooper, Colin Mathura-Jeffree and Pebbles Hooper.
The Big Egg Hunt concept first came about in London in 2012. Since then the campaign has grown to include Dublin, and this year New York and New Zealand.
Big Egg Hunters compete for the grand prize of a 340g 18ct Whittaker's Gold Slab made by Partridge Jewellers.
Whittaker's will donate at least an additional $150,000 to Starship, by donating 10 cents from every Kiwi favourite 50g Peanut Slab, 20 cents from every pack of its top-selling Fairtrade Creamy Milk block and 20 cents from its Creamy Milk Easter Mini Slabs sold throughout the hunt.
• Information about the event, including maps, can be found at www.thebigegghunt.co.nz or www.facebook.com/BigEggHuntNZ