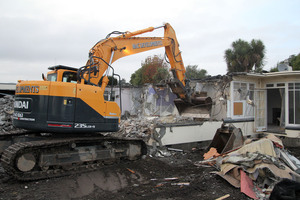 Earthquake-damaged Christchurch homes that are awaiting demolition are being used as toilets, it has emerged.
The Canterbury Earthquake Recovery Authority (Cera) today revealed some of the issues in protecting the 3000-plus properties that still need to be cleared from the residential red zone.
Staff said they "have a big job" in ensuring the Crown-owned properties were maintained until all insurance-related assessments were completed and demolition or relocation could get underway.
Cera chief executive Roger Sutton said while the majority of the issues were run-of-the-mill, some of the work the security staff needed to do "beggars belief".
Staff recently found tourists setting up camp inside a Crown-owned home, with their tent pitched in the lounge and a BBQ set up for cooking beside it.
"That may well have been a misunderstanding, but the behaviour of the group to then use one of the bedrooms as a toilet was inexplicable," Mr Sutton said.
"It caused a health risk to my staff, but in general is just disgusting behaviour and not something we would want other tourists to think was acceptable anywhere in New Zealand."
In another incident where former property owners had been paid out for their property by the Crown, nearby residents had heard that a large "farewell bonfire" was being planned for the house.
Cera uses motion-sensor security cameras on many properties that has helped with several criminal investigations. But it has reached the point where staff have needed to keep a video record of some of their encounters in case that could also help police.
Settled properties in the red zone are Crown-owned, and not abandoned, Mr Sutton said.
"It's not a free-for-all for anyone to use or destroy them, and we need to make sure we work through the insurance issues and EQC issues before properties are demolished or relocated, so that the tax-payer gets the best value out of the money being spent."
- APNZ